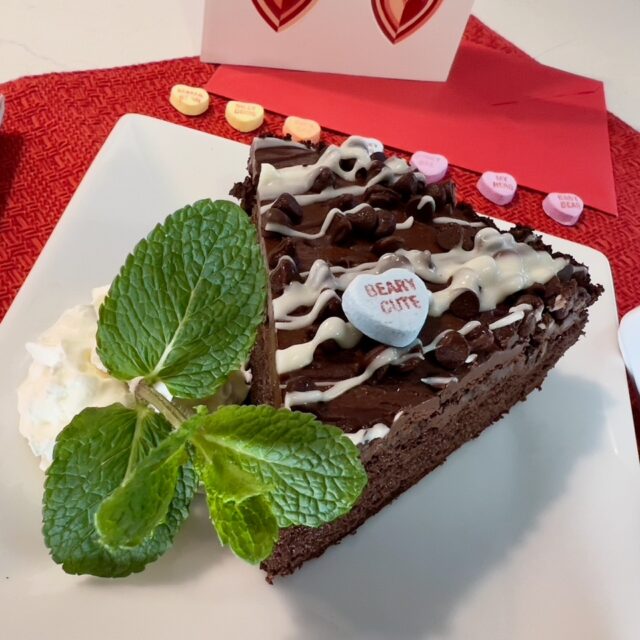 Valentine's Chocolate Mint Cake
This sweet and minty chocolate cake is sure to warm the heart of your sweetest... come February 14.
Ingredients
Cake:
2 cups unbleached, all-purpose flour
2 teaspoons baking powder
½ cup chopped Soli Organic Living Mint
1/3 cup butter, softened
1/2 cup sugar
2 eggs
3/4 cup milk
Frosting:
dark chocolate mint frosting
⅓ cup milk
¼ Cup Soli Organic Living Mint
½ cup butter, softened
¼ cup black cocoa powder
3 cups powdered sugar
1/3 cup miniature chocolate chips
Directions
Cake:
Preheat oven to 350 degrees. Butter & Flour one 8" round cake pan.
Whisk together the flour and baking powder. Set aside.
Cream together the butter, mint, and sugar until light and fluffy. Add the egg, and milk, mixing until incorporated.
Add the dry ingredients to the wet and combine thoroughly.
Divide and spread the batter among the prepared cake pan.
Bake in the preheated oven for 20-25 minutes or until an inserted toothpick comes out clean.
Cool in pan for 10 minutes before removing to cool completely on a wire rack before frosting.
Frosting:
Combine the milk and mint in a saucepan.
Bring just to a simmer. Do not let it boil. Remove from burner and cover.
Allow the mixture to rest for 20 minutes.
Strain mint from the milk, pressing to squeeze out all the liquid. Let cool completely.
Slightly cream the butter.
Add the cocoa powder to the butter and mix well. Rotate between adding small amounts of cooked milk and powdered sugar and continue mixing until incorporated and frosting begins to fluff.
Add chocolate chips
When cake is fully cooled spread the frosting and garnish with fresh mint leaves.
Gallery