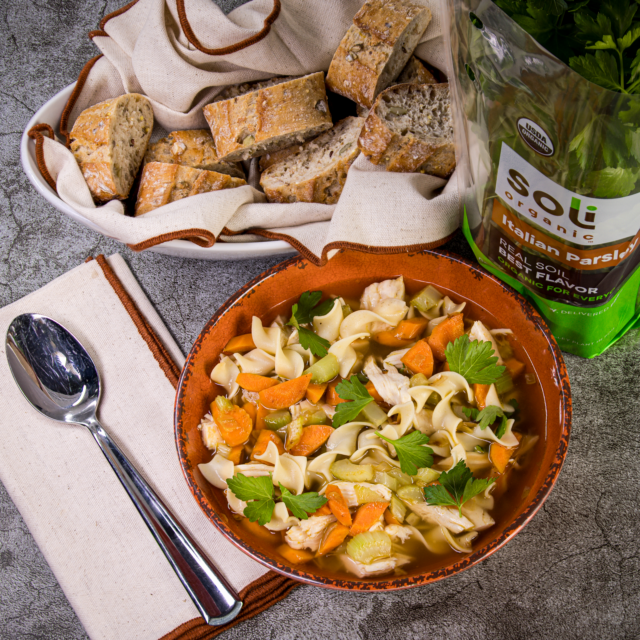 Turkey Soup with Soli Organic Italian Parsley
30 minutes
|
Yield:

6 Servings
Transform your Thanksgiving leftovers into a comforting bowl of Turkey Soup with Soli Organic Italian Parsley, a hearty and flavorful way to make the most of your turkey.
Ingredients
2 tablespoons extra-virgin olive oil
1 medium white onion, finely diced
4 garlic cloves, minced
1 teaspoon dried thyme
3 medium carrots, peeled and finely diced
3 celery sticks, finely diced
1/4 cup all-purpose flour
1 (32-ounce) box low-sodium chicken or turkey stock
2 pounds cooked turkey meat, shredded or cut into large chunks (about 4 cups)
1 (12oz) package No Yolks Broad Egg White Noodles
Kosher salt
Freshly ground black pepper
Soli Organic fresh Italian Parsley, lemon wedges, and red pepper flakes for garnish
Directions
Heat 2 tablespoons of extra-virgin olive oil over medium heat in a heavy-bottomed pot.
Add finely diced white onion and minced garlic to the pot. Cook until they become translucent and soft, which should take about 3 minutes.
Stir in 1 teaspoon of dried thyme and cook until it becomes fragrant about 2 minutes.
Add the finely diced carrots and celery to the pot. Cook and sweat the vegetables until they become translucent, about 3 minutes.
Sprinkle 1/4 cup of all-purpose flour over the vegetables. Cook for 3 minutes, stirring constantly, until all the vegetables are coated with the flour.
Slowly pour in the chicken or turkey stock from the 32-ounce box, stirring continuously to break up any lumps of flour. This helps thicken the soup and adds flavor.
Add the 2 pounds of cooked turkey meat to the pot. Season the soup with salt and pepper to taste.
Bring the soup to a boil, then reduce the heat to a simmer.
Add No Yolks Broad Egg White Noodles.
Let it simmer for about 20 minutes until the liquid has reduced a little and the soup has slightly thickened.
Taste the soup and adjust the seasoning with more salt and pepper if needed.
Once the soup is ready, ladle it into bowls and garnish with chopped Italian Parsley. You can also serve it with lemon wedges and red pepper flakes for extra flavor.
Recipe adapted from https://food52.com/recipes/84466-best-turkey-soup-recipe
Gallery