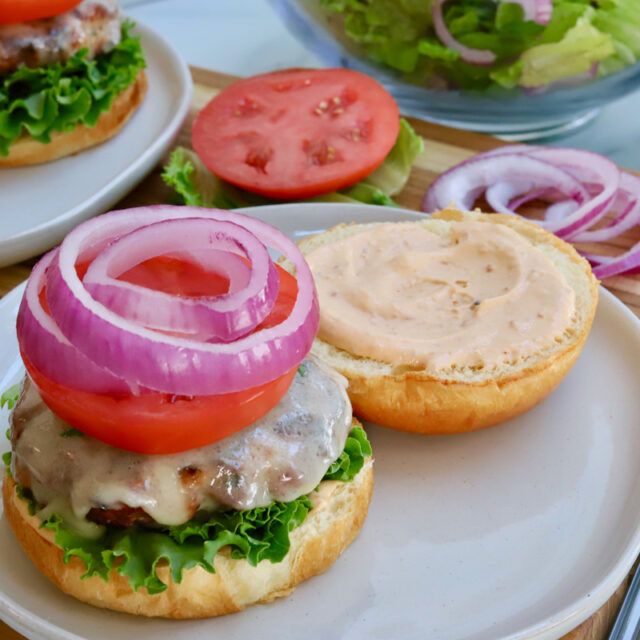 Turkey Club Cheeseburgers with Sun-dried Tomato Aioli
30 minutes
|
Yield:

4 patties
We're revamping that iconic sandwich that everyone loves and turning it into a mouthwatering burger. These Turkey Club Cheeseburgers are great for backyard grilling, entertaining guests at home, or simply served during the busy weeknight hustle.
Ingredients
For the Patties:
Ground Turkey
6 slices of Bacon, crumbled
2 tbsp. chopped Organic Parsley
1 tbsp. Garlic Purée
1 tsp. Onion Powder
1 tsp. Worcestershire sauce
1 - 2 tbsp. Mayonnaise (optional)
For the Sun-dried Tomato Aioli:
Mayonnaise
Juice of ½ Lemon
Organic Sun-dried Tomato Purée
For Serving:
Lettuce
Tomato
Red Onion
Swiss cheese
Hamburger Bun
Directions
Gently mix all ingredients for the patties in a large bowl. Form into four individual burgers and rub the outside of each with a dab of olive oil.
Preheat grill to 400 – 450 F.
While the grill preheats, make the Sun-dried Tomato Aioli by mixing all three ingredients in a small bowl. Set aside in the refrigerator until you're ready to assemble the cheeseburgers.
Grill patties for roughly 6 minutes on each side, making sure that the internal temperature is at least 165°F prior to consuming. We shut the lid during our cooking process. If you choose to grill them open-air, they might need a little more time on each side.
To melt the cheese over the burger, simply add the cheese slices to the top of each patty during the last minute of the grilling process.
For a classic club experience, layer each cheeseburger with lettuce, tomato, red onion and slather the buns with our sun-dried Tomato Aioli. Enjoy!