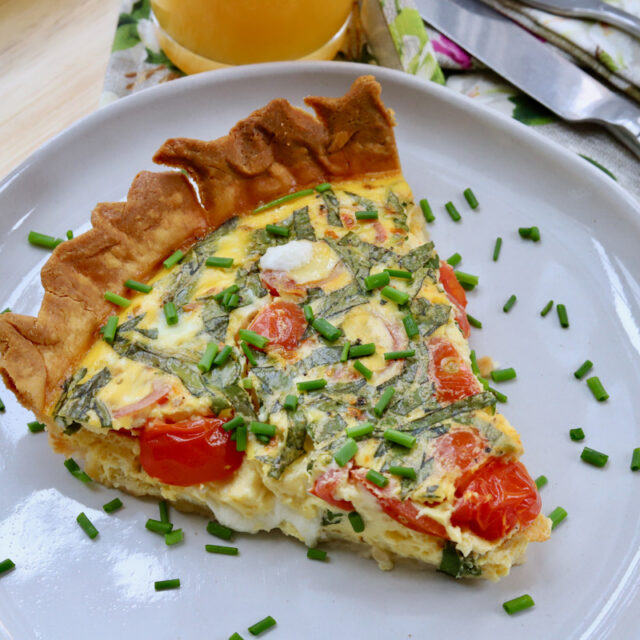 Tomato-Basil Quiche
55 minutes
|
Yield:

8 servings
Ingredients
8 - 10 large Basil Leaves, thinly sliced
1 cup Cherry Tomatoes, cut in half or quartered
1 cup fresh Mozzarella Pearls
5 Eggs
1 cup Half & Half
¼ tsp. Salt + ¼ tsp. Freshly Cracked Black Pepper
1 uncooked Pie Crust, store-bought or homemade
Chives, chopped as an optional garnish
Directions
Preheat oven to 350F. To ensure that your pie crust does not get soggy, partially bake the pie crust for 10 minutes - just until it's starting to brown. Make sure to poke a few holes on the bottom of the crust with a fork to prevent bubbles. You could also weigh down the crust with parchment paper and pie weights.
While the crust prebakes, whisk together the basil leaves, cherry tomatoes, mozzarella pearls, eggs, half and half, salt, and pepper.
Pour whisked ingredients into the partially baked pie crust and bake for an additional 45 minutes, or until egg custard has set.
Allow the quiche to cool for at least 15 minutes before slicing. Serve immediately or store in the refrigerator for up to 5 days.
Garnish with chopped chives and serve with one of our suggested side dishes.