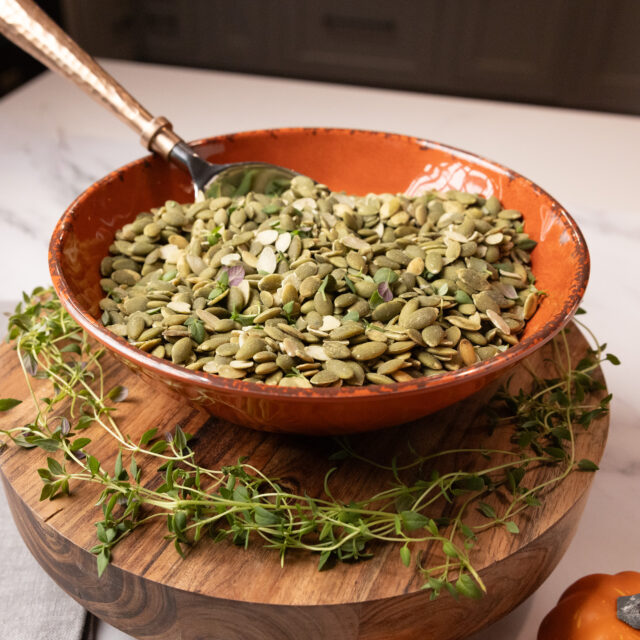 Toasted Pumpkin Seeds with Thyme
40 minutes
|
Yield:

6 servings
Make your own Roasted Pumpkin Seeds to enjoy this nutritious snack this Fall!
Ingredients
1 cup Pumpkin Seeds (about 2 pie pumpkins)
3/4 tsp Salt
2 tsp finely chopped Fresh Soli Organic Living Thyme
2 tsp Olive Oil
Directions
Preparing the Seeds:
Cut each pie pumpkin in half lengthwise or cut around the stem to remove the lid.
Scoop out and remove all the pumpkin seeds and strings. (You'll get ~¾ cup seeds from one 3-pound pie pumpkin.)
Place the seeds in a colander in the sink. Rinse them under cool running water for 20-30 seconds, running your fingers through them to loosen the seeds.
Dry pumpkin seeds thoroughly with a dish towel or paper towel. (If you have the time, let them sit out overnight to dry them completely.)
Roasting Pumpkin Seeds:
Preheat oven to 350°F.
Combine pumpkin seeds, oil and Thyme in a large bowl. Toss to coat the pumpkin seeds thoroughly.
Line a large baking sheet with parchment paper and spread pumpkin seeds in a single layer.
Bake in preheated oven for 20-30 minutes or until pumpkin seeds are crunchy.
Let cool completely before enjoying.
Feel free to experiment with different seasonings to create your favorite flavor combination for these delicious, toasted pumpkin seeds. Fresh Rosemary works well, too!
Gallery