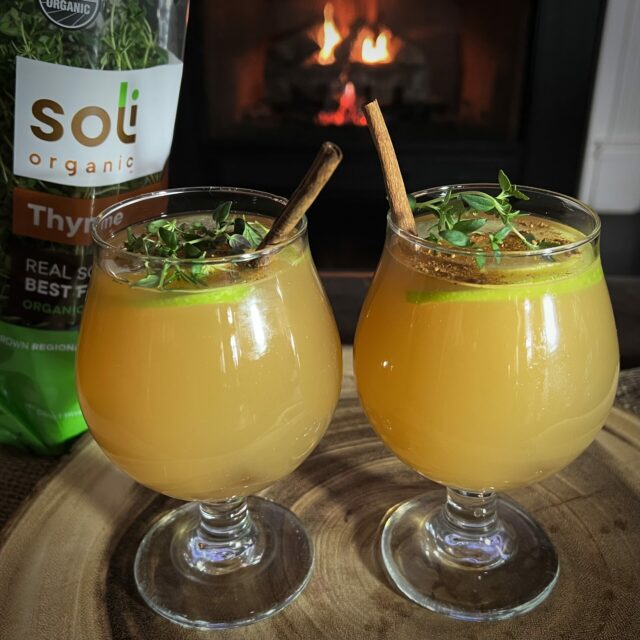 Thyme Infused Apple Cider
This family-friendly autumn drink is perfect for celebrating Autumn. Serve warm or chilled and enjoy the sweetness.
Ingredients
12 ounces organic apple cider
4 tablespoons honey-thyme simple syrup*
4 teaspoons lemon juice
Splash of club soda
Dash of cinnamon
To garnish:
2 thyme sprigs
2 cinnamon sticks
Directions
Combine the ingredients above and stir. Serve over ice or serve warm on chilly nights.
* Honey & Thyme Simple Syrup
Ingredients
1/2 cup honey
1 cup water
Ten sprigs of fresh thyme tied together with kitchen twine.
Directions
Combine sugar, honey, water, and thyme sprigs in a small saucepan. Bring mixture to a boil over medium-high, constantly stirring until sugar dissolves. Remove from heat, and cool to room temperature for about 30 minutes. Remove and discard thyme sprigs. Store in an airtight container in the refrigerator for up to 2 weeks.
Add 4 ounces of Bourbon for an adult spiced cocktail
Recipe adapted from: https://camillestyles.com/food/bourbon-apple-cider-cocktail-fall/
Gallery