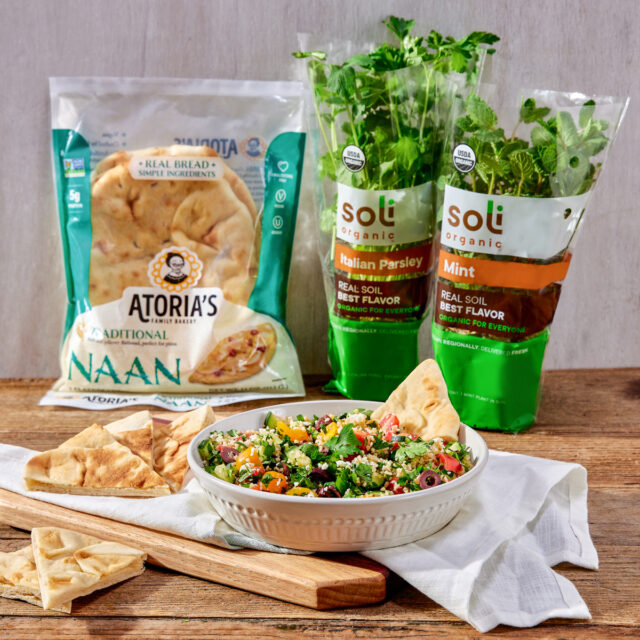 Tabouli Salad with Fresh Herbs and Naan
Try this simple Mediterranean salad filled with our fresh Organic Mint and Parsley. Best served with a side of Atoria's Family Bakery Naan.
Ingredients
1 ½ cups boiling water or chicken broth or vegetable broth
1 cup dry bulgur
1 teaspoon salt (omit if you are using broth)
2 tablespoons fresh lemon juice (about 1 lemon)
¼ cup extra virgin olive oil
1 clove garlic, minced
3 green onions (scallions), finely chopped
½ cup chopped Soli Organic Living Parsley
⅓ cup chopped Soli Organic Living Mint
1 pint cherry tomatoes, halved
1 large English cucumber (or 2 medium Persian cucumbers) cut into ½-inch pieces
3 ounces crumbled feta
1 cup Greek olives or kalamata olives, pitted and halved (20 to 24)
Directions
Bring water to boil, add dry bulgur to boiling water or broth, and stir. Turn heat off, leaving the pan in place; cover and let stand 25 minutes.
Fluff bulgur with a fork and then allow to cool to room temperature.
Once the bulgur is cool, add salt, lemon juice, olive oil, and garlic. Stir to combine; cover tightly and refrigerate for at least 30 minutes or overnight.
When you're ready to serve the salad, remove the bulgur mixture from the fridge and toss with a fork to lighten and separate. Add green onions, parsley, mint, tomatoes, cucumber, feta, and olives; stir gently to combine. Taste for seasoning — add salt and freshly ground black pepper to taste. Serve with Atoria's Traditional Naan.
Gallery