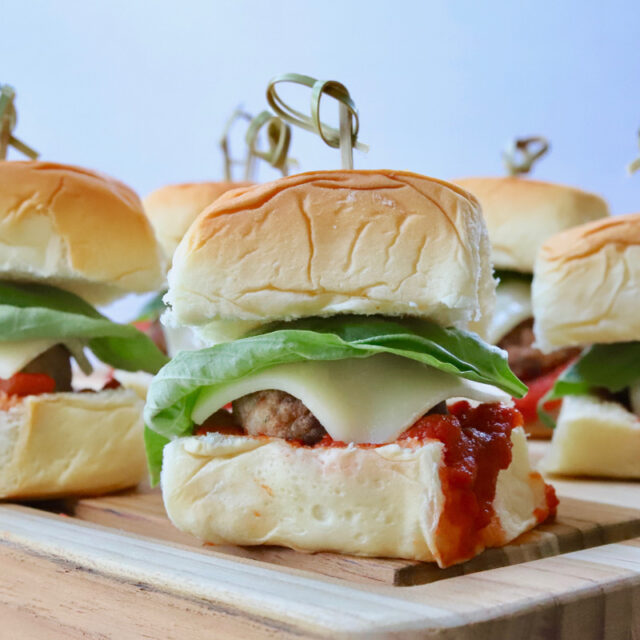 Super Scrumptious Meatball Sliders
These tender meatballs are smothered in a red sauce, then topped with mozzarella and fresh basil. They're the picture-perfect party appetizer that will easily feed a crowd.
Ingredients
12 Hawaiian Dinner Rolls
12 Meatballs, cooked
2 cups Marinara Sauce
3 Mozzarella Cheese slices, cut into 4 squares each
12 Fresh Basil Leaves
Toothpicks, for serving
Directions
Place meatballs and marinara sauce in a medium stockpot and heat over medium-high. Stir occasionally and cook until meatballs are piping hot.
Cut Hawaiian dinner rolls in half, lengthwise. Top each roll with a sauce-smothered meatball and then layer them with a mozzarella square and fresh basil. Add more sauce on top, if desired, and then top with the upper half of the bun.
Stick a toothpick in each slider and place on a serving platter. Enjoy immediately.
We love the contrast of sweet Hawaiian rolls and savory meatballs; however, any slider rolls will do the trick.
Use your favorite meatball recipe or make-it-easy and go for store-bought. Both versions work well with this recipe.
If you'd like to toast the buns, cut the rolls in half and then pop them in a 350F oven for 8-10 minutes prior to assembly.