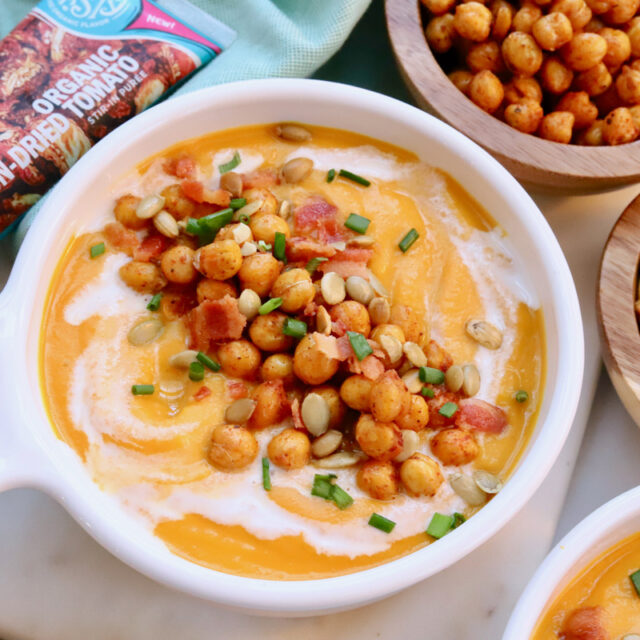 Sun-Dried Tomato Butternut Squash Soup
1.5 hours
|
Yield:

6 servings
This silky-smooth Butternut Squash Soup is jampacked with flavor. Vibrant butternut squash is roasted and blended with carrots, white onion, vegetable broth, coconut milk, and our Organic Sun-Dried Tomato Purée to create a dynamite combination your whole family will love. Talk about a soup-er star recipe!
Ingredients
1 large Butternut Squash (about 3 pounds)
1 Yellow Onion
4 large Carrots
1/2 tsp. Salt
1/2 tsp. Freshly Cracked Black Pepper
2 tbsp. Olive Oil
3 tbsp. Water
2 tbsp. Butter
2 cups Vegetable Broth
1 cup Coconut Milk
1 tbsp. Organic Garlic Purée
2 tbsp. Organic Sun-Dried Tomato Purée
More Salt and Pepper, to taste
Directions
Preheat oven to 375F.
Cut butternut squash in half, lengthwise, and discard the seeds. Peel and cut onion into four wedges, then peel and cut carrots into thirds.
Place squash, onion wedges and carrots on a rimmed baking sheet. Season with salt and pepper and then flip the squash over so it roasts cut side down. Drizzle all vegetables with olive oil and pour 3 tbsp. water over squash (this will help it roast faster and will evaporate during the process). The vegetables should be finished around 55 minutes to an hour. The squash is finished when you can pierce through its skin with a fork and it's soft.
Once finished roasting, allow the baking sheet to sit at room temperature for 15 minutes, or until the squash is cool enough to touch. Once cooled, scoop out the inner flesh of the squash and disregard the skin.
In a large stockpot, melt the butter over medium-high heat until brown bits start to form. About 3 minutes. Add vegetable broth, coconut milk, garlic purée and tomato purée. Bring to a simmer.
Carefully add the squash, onions and carrots to the stockpot. Using an immersion blender, purée the vegetables until smooth. The end result will be thick and creamy. If you do not have an immersion blender, you can alternatively use a regular blender by blending the soup in batches.
Add additional salt and pepper, to taste. For more sun-dried tomato flavor, add an additional tbsp. of purée and blend again before serving. Garnish with preferred toppings and enjoy immediately. Store any leftover soup in the refrigerator, covered, for up to 3 days.
To roast chickpeas: Simply drain 2 cans of chickpeas with a strainer. Next, you'll dry them as much as you can with paper towels. Toss the chickpeas with olive oil and salt. Pour them evenly onto a baking sheet and roast at 375F for approximately 30 minutes. Mix with desired seasonings immediately after roasting.
Want to explore other flavor options with this soup? Swap the Sun-Dried Tomato Purée with 1 tbsp. of our Organic Ginger Purée + 1 tbsp. Brown Sugar + 1 tsp. Cinnamon. Top with Fresh Cilantro and Pepitas.
Don't have carrots on hand? Substitute them with 1 large sweet potato. Simply peel and then cut the potato into wedges before roasting.