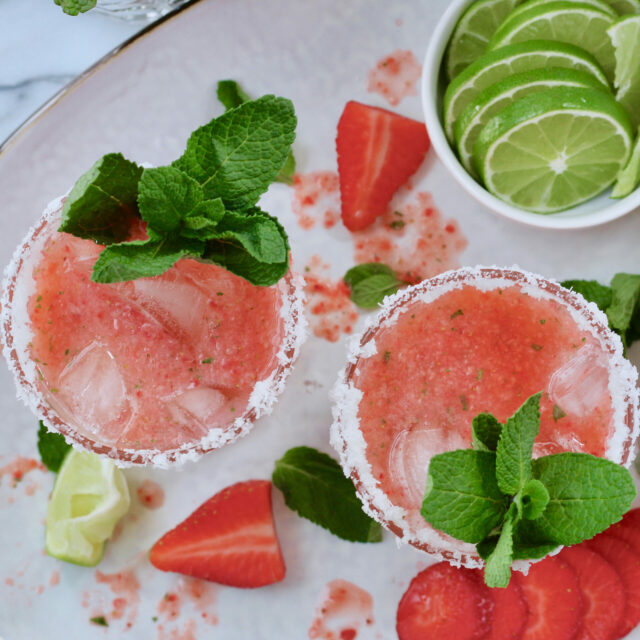 Strawberry Mint Margaritas
Treat your taste buds to a mouthful of flavor with this recipe that celebrates using real fruit, garden-fresh herbs and absolutely no refined sugar. Say goodbye to premade mixers and hello to this perfectly tart, naturally sweetened indulgence.
Ingredients
6 Fresh Mint Leaves + more for garnish
8 Large Strawberries
3 ounces Silver Tequila
5 ounces Triple Sec
1 ounce Fresh Lime Juice
½ ounce Agave Syrup, or to taste
Margarita Salt, as needed
Directions
Add strawberries, mint, tequila, triple sec, fresh lime juice and agave syrup to a blender. Pulse on high until strawberries are broken down.
To rim the glasses: Pour margarita salt on a small plate and squeeze fresh lime juice onto a second small plate. Dip the rim of two glasses in the lime juice and then the margarita salt. You can use sugar instead if you prefer something sweeter.
Add ice cubes to the glasses and pour over the margaritas.
Slurp and enjoy!
You can easily make this into a frozen slushy masterpiece by adding ice cubes straight into the blender.
Feel free to swap the fresh strawberries for frozen, if necessary. When doing so, you may need to add a little extra agave syrup if the strawberries aren't sweet enough.
Don't like strawberries? Substitute with mango, peaches or pineapple instead!
If you're going to rim the edge of your glass with salt, NEVER use table salt. We repeat, never. It's too salty. Make sure to splurge and buy margarita or kosher salt.
Gallery