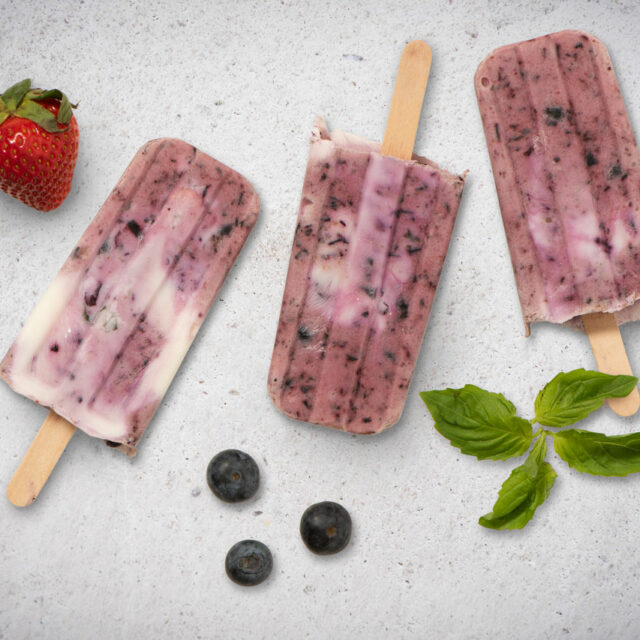 Strawberry Blueberry Basil Swirl Yogurt Popsicles
Vivamus sed molestie ligula, vel ultrices tellus. Duis faucibus eget nunc eu dignissim. Orci varius natoque penatibus et magnis dis parturient montes, nascetur ridiculus mus. In hac habitasse platea dictumst.
Ingredients
1 cup sliced strawberries
1/2 cup fresh basil leaves
1 cup blueberry
2 Tbsp. agave or honey
2 cups vanilla Greek yogurt (or any flavor)
Special Equipment
Directions
Blend the strawberries  in a food processor or blender on high speed until nearly liquified into a smoothie-like consistency.  Add 1/4 cup basil leaves and pulse until the basil leaves are roughly chopped.  Set aside strawberry liquid. Do the same with the blueberries and 1/4 cup basil.
Stir in half the agave/honey into each strawberry/basil and blueberry/basil mixture.  If you want a tie-dye, swirly look to your popsicles drop some of the berry mixtures along with the yogurt into you molds. You want those patches of white and pink and white and blue. The mixture will be thick. Taste it. If you want it sweeter, you can add a little more agave/honey. To make even swirly-er you can insert a skewer and swirl as you add the sections. 
If your popsicle mold has slots for sticks, you can insert them before freezing – if not, freeze for 2 hours, then put a wooden popsicle stick in the middle. Continue to freeze for an additional 4-6 hours or overnight.
Run popsicle molds under warm water to easily remove.