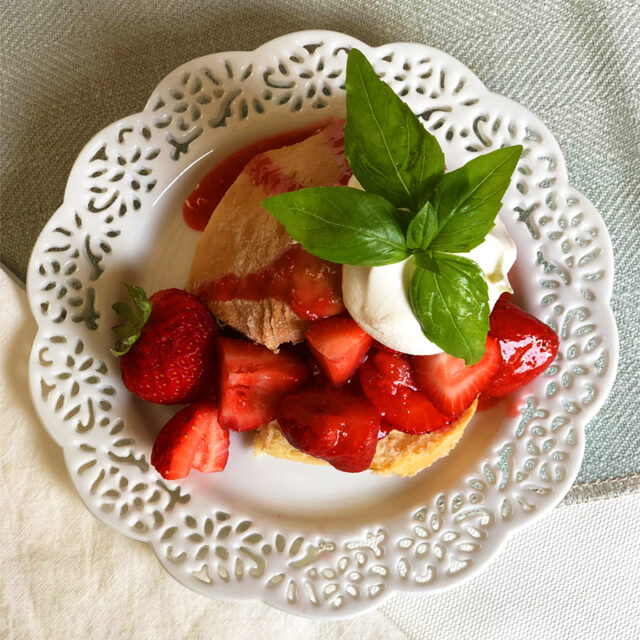 Strawberry Basil Shortcake
30 minutes
|
Yield:

6-8 SERVINGS
The Queen of a Fruity Dessert is definitely a Strawberry Shortcake, especially with it has the King of Herbs, Basil, in it! A match made in culinary heaven.
Ingredients
¼ cup sugar
1 tbsp. baking powder
½ tsp. kosher salt
2 cups all-purpose flour, plus more for surface
6 tbsp. chilled unsalted butter, cut into pieces
1 cup heavy cream
1 large egg, beaten
1.5 lbs fresh strawberries, hulled, quartered, divided
4 tbsp. sugar, divided
2 sprigs Soli Organic Basil
2 cups heavy cream
2 tbsp. crème fraîche
Directions
Preheat your oven to 400 degrees. Get your muscles ready to whisk the sugar, baking powder, salt, and flour in a large bowl. Feel free to get your fingers in there, or use a pastry cutter if you're fancy enough to own one and work in the butter until the texture of your batter is a bit coarse and there are still pea-size pieces of butter showing. Then, add the cream and mix that in until your dough becomes perfectly sticky.
On a lightly floured surface, pat your down out making sure it's about 3/4" thick. Cut out rounds with a biscuit cutter - or perhaps a cup! Whatever you have to give it the shape you desire. Squish those scraps together to make even more biscuits! Line those biscuits up on a parchment-lined baking sheet. Make a quick egg wash (1 egg mixed with 1 tbsp. of water) and brush it on top of your beautiful biscuits. Bake until their tops are golden brown and cooked through. That should take 15-20 minutes!
Now it's time for the berries!
Chop up about 2 cups of strawberries - bruised and less-than-perfect ones are perfect for this - and cook them with 2 tbsp. of sugar in a medium saucepan over medium heat. Stir those 'berries occasionally until they are softened and your mixture has slightly thickened. This should take around 5 minutes. Now, let your concoction cool!
While your biscuits are baking and your strawberry mixture is cooling, toss some fresh basil, 1 tbsp of sugar, and the rest of your strawberries in a bowl. Let that sit and get nice and juicy.
Now, get out an electric mixer and beat your heavy whipping cream, creme fraiche, and remaining sugar for about 4 minutes. Or...get your favorite whipped topping.
It's finally time to bring everything together! Take your shortcake biscuits and top them with all the strawberries, your compote, and whipped topping - enjoy!