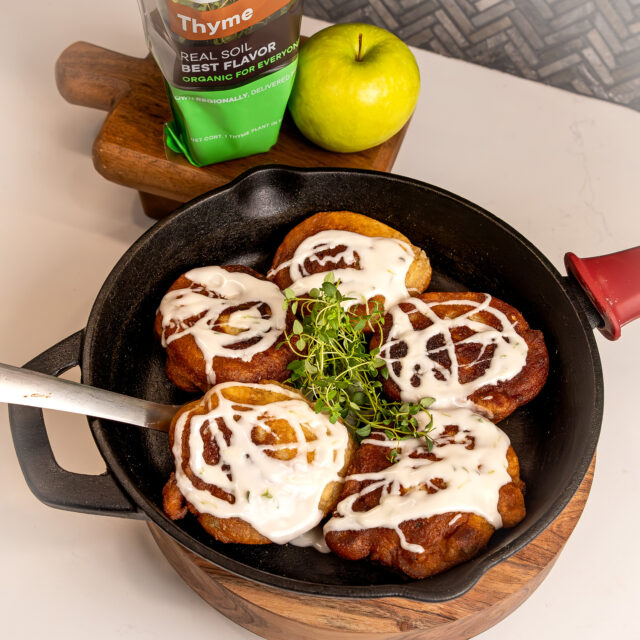 Spiced Apple Thyme Fritters
20 minutes
|
Yield:

4-6 Servings
Savor the warm, comforting blend of sweet, spiced apples and aromatic thyme, which perfectly complements the cozy atmosphere and flavors associated with the autumn season.
Ingredients
Fritters
Vegetable oil, for frying
3/4 cup boxed pancake mix (just add water variety)
1/4 cup granulated sugar
3 Tablespoons whole milk
1 teaspoon vanilla extract
1 large egg, beaten
1 large Granny Smith apple, peeled and diced small
2 Tablespoons finely chopped Soli Organic Living Thyme
1 teaspoon ground cinnamon
Glaze
1 cup powdered sugar
Splash whole milk or whiskey
1 teaspoon finely chopped Soli Organic Living Thyme
Directions
For the fritters:
Heat 2 inches of vegetable oil in a large cast iron pan to 375 degrees F.
Meanwhile, combine the pancake mix, granulated sugar, cinnamon, milk, vanilla, egg, and thyme in a bowl; some lumps are ok. Fold in the apples.
For the glaze:
Whisk together the powdered sugar, thyme, and milk or whiskey until smooth. Add more milk if needed, to make a thick dippable glaze.
In batches, drop 1/4-cup scoops of the batter into the oil and cook until they turn a dark amber color, about 2 minutes per side. Remove to a rack or paper towel-lined plate.
Let the fritters cool slightly, about 30 to 45 seconds, before drizzling over the icing and returning them to the rack. Serve warm.
Gallery