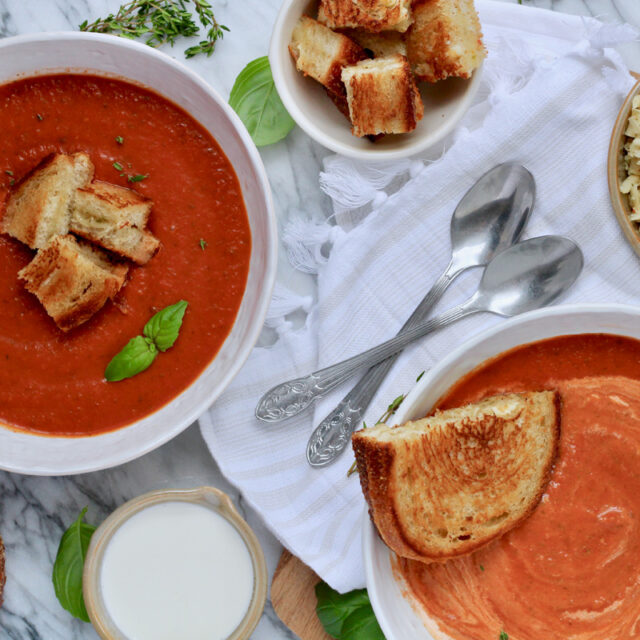 Slow Cooker Tomato Basil Soup
There's nothing better than a big bowl of warmth, especially during the winter. Served with crispy grilled cheese and an optional swirl of cream, you'll want to make this over and over again until summer.
Ingredients
½ Sweet Yellow Onion, chopped
5 Tbsp. Salted Butter
3 cups Vegetable Broth
30 ounce can Crushed Tomatoes
30 ounce can Diced Tomatoes
1 cup Fresh Basil Leaves
2 Tbsp. Fresh Oregano Leaves
2 tsp. Fresh Thyme
4 Garlic Cloves
½ tsp. Salt
½ tsp. Red Pepper Flakes
¼ tsp. White Pepper
Directions
Start by sautéing half of a sweet yellow onion with one tbsp. of butter. Once browned and caramelized, scrape into the bottom of the slow cooker.
Add remaining butter and all other ingredients into the bowl. Stir until combined.
Cook on high for 4 hours or on low for up to 8 hours.
Using an immersion blender, carefully blend soup until smooth. Serve immediately with desired toppings.
This Tomato Basil Soup is absolutely fabulous on its own, but if you're looking for something a little extra… we suggest the following optional toppings.
Cream: A drizzle of warm cream will add an additional layer of richness to the base recipe. Add about a tbsp. of cream per bowl.
Grilled Cheese Croutons: Simply make your favorite grilled cheese recipe and cut it into smaller square "croutons" to dunk into your soup. The ones pictured in this post are made from two slices of rye bread that were slathered in mayo (instead of butter), filled with Monterey Jack cheese and pan fried in butter until golden brown.
Additional Fresh Herbs: We sprinkled ours with more fresh thyme and basil leaves.