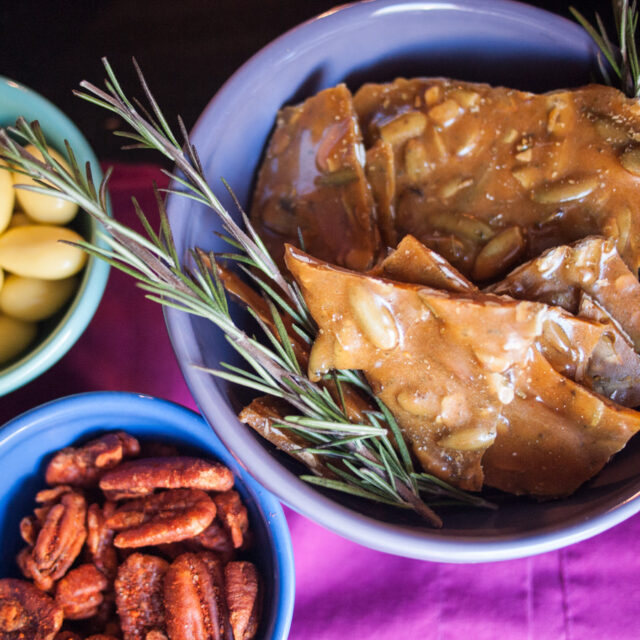 Rosemary Pumpkin Seed Brittle
1 hour
|
Yield:

8 servings
Peanut brittle is a traditional holiday favorite, but pumpkin seed brittle is a fun way to add a little something new to the abundance of sweets found on buffet tables and in goody bags this time of year. Rosemary adds a woodsy winter scent, and pumpkin seeds are wholesome yet light. Delicious with a cup of good coffee or tea, this brittle is also a thoughtful gift when wrapped up in parchment paper and tucked into a festive tin.
Ingredients
Nonstick vegetable oil spray
1 cup granulated sugar
1/2 cup light corn syrup
3 tbsp water
1 cup roasted pumpkin seeds
2 tbsp unsalted butter
1 tsp kosher salt
1 tsp fresh rosemary, finely minced
3/4 tsp baking soda
Directions
Cover a baking sheet with parchment paper. Spray parchment with nonstick cooking spray and set aside.
In a heavy-bottomed stock pot, combine sugar, corn syrup, and water and bring to a boil over medium high-heat.
When sugar mixtures reaches 290 degrees Fahrenheit on a candy thermometer, add the pumpkin seeds, butter, kosher salt, and rosemary and stir to combine.
Continue to cook over medium-high heat until mixtures reaches 305 degrees Fahrenheit on a candy thermometer. Turn off heat, add baking soda, and stir to combine.
Working quickly pour brittle mixture out on to the greased parchment paper and spread so that it is no more than 1/4 inch in thickness.
Let cook completely. Then break into pieces and serve.