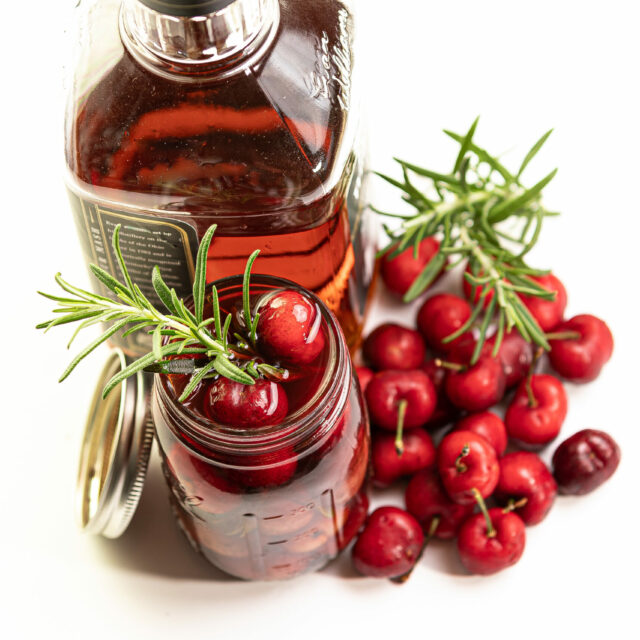 Rosemary Bourbon-Soaked Cherries
Rosemary, bourbon-soaked cherries make any cocktail that calls for cherries to a flavorful new level. To make these gently sweet, tasty treats, you only need 4 ingredients and an 8 oz. jar to store them in.
Ingredients
1 lb Fresh cherries (de-stemmed and pitted)
2 sprigs of fresh rosemary
4 oz decent quality bourbon
4 tbsp. of sugar, brown sugar or honey
Directions
Add your sprigs of rosemary to the bottom of the jar, add sweetener of choice, fill the jar close to the top with cherries, and finally pour your bourbon to completely submerge cherries.
Cap the jar and vigorously shake these little bad boys in their happy bath for 30 seconds or so.
Shake them again in an hour or so to dissolve any remaining sugar.
We keep our cherries on the counter so we can quickly get to them when the urge happens, but you may wish to keep them chilled in the fridge.
The flavor will continue to evolve over time, but you can enjoy them after 2 or 3 days. You can also get creative with additional things to add to your concoction, such as a slice of orange peel, or a tsp. of vanilla, but we find that the rosemary is such a distinctive and pleasing flavor, so we keep it simple.
Add more cherries to the jar once or twice as you use them, and then after you complete them, use the remaining bourbon to make an incredible Manhattan or Old Fashioned.