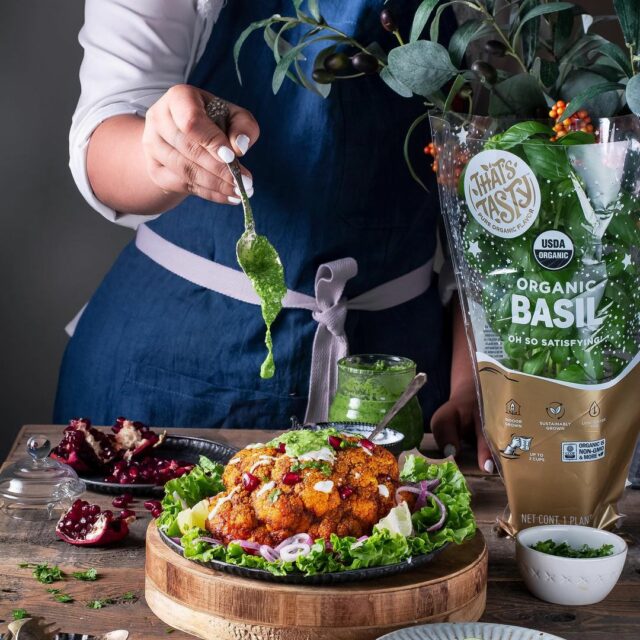 Roasted Whole Cauliflower with Cilantro Basil Sauce
1 hour
|
Yield:

3-4 Servings
This baked spiced whole cauliflower with fresh green sauce can be served as a main dish or an appetizer this holiday season! A delicious center piece for your festive table.
Ingredients
Green Cilantro Basil Sauce
1 cup Living Organic Cilantro leaves
1 cup Living Organic Basil leaves
1 Medium Jalapeño
½ cup Walnuts
2 tbsp Olive oil
1 tsp Salt
½ Lime Juice
½ cup Water
Roasted Cauliflower
1 Medium Head of Cauliflower
2-3 tbsp Olive Oil
1 tsp red Chili Powder
½ tsp Turmeric Powder
1 tsp Coriander Powder
1 tsp Garam Masala or Curry Powder
1 tsp Maple syrup
1 tsp Salt
½ tsp Garlic Powder
Directions
Preheat the oven to 400°F.
Add all the ingredients of sauce into a blender and blend it till smooth. Set aside.
Remove the bottom part of the cauliflower.
Boil the whole cauliflower head for about 3-4 mins. Drain and set aside.
Add the remaining ingredients to a mixing bowl and mix well.
Place the cauliflower head into the skillet, rub the spice mixture all over it, add the remaining mixture, and shake it a little.
Place it into the oven and bake it for about 40-45 mins.
Once roasted cauliflower is ready, top with cilantro basil sauce, pomegranate arils, and serve.