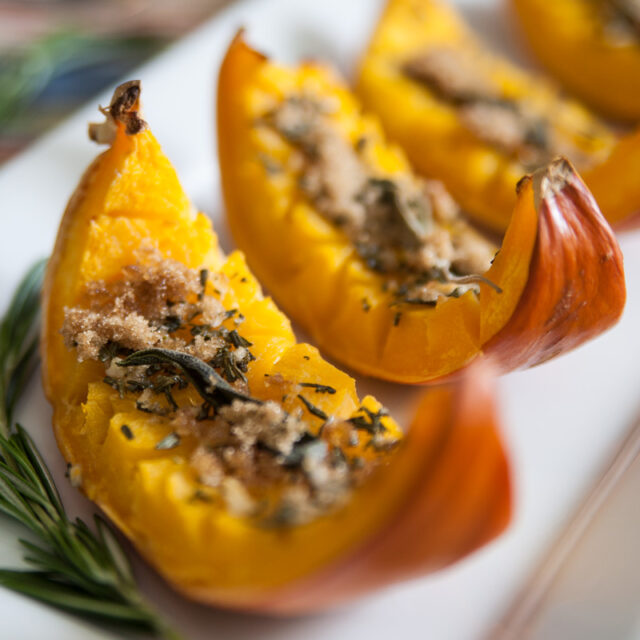 Roasted Pumpkin with Rosemary and Sage
1 hour
|
Yield:

4-6 servings
Get into pumpkin season with roasted pumpkin decked out in fresh rosemary, sage, garlic, and brown sugar. A little butter never hurt either. This is a perfect appetizer for Halloween night or an easy side dish for Thanksgiving.
Ingredients
1 small sugar or pie pumpkin (not a carving pumpkin!)
3 tbsp unsalted butter, melted
2 sprigs fresh rosemary
8 leaves sage
1 clove garlic
1/2 tsp kosher salt
2 tbsp brown sugar
Directions
Preheat oven to 375˚ F.
Cut pumpkin into 8 equal sections and remove the seeds and pulp from the interior.
Score the inside in a criss-cross pattern and cut about halfway through, don't break the skin!
Finely mince the garlic, rosemary, salt and sugar until it makes a cohesive paste. (You can use the food processor if that's easier).
Place cut pumpkin skin-side-down on a baking sheet, and brush the slices with melted butter.
Divide the minced garlic, rosemary, salt, and sugar between the 8 pumpkin slices and press it into the scored pumpkin flesh.
Press a single sage leaf on each slice of pumpkin.
Bake for about 50 minutes, or until the pumpkin is tender.
Finish with an additional sprinkling of brown sugar if you like and garnish your serving platter with fresh rosemary.