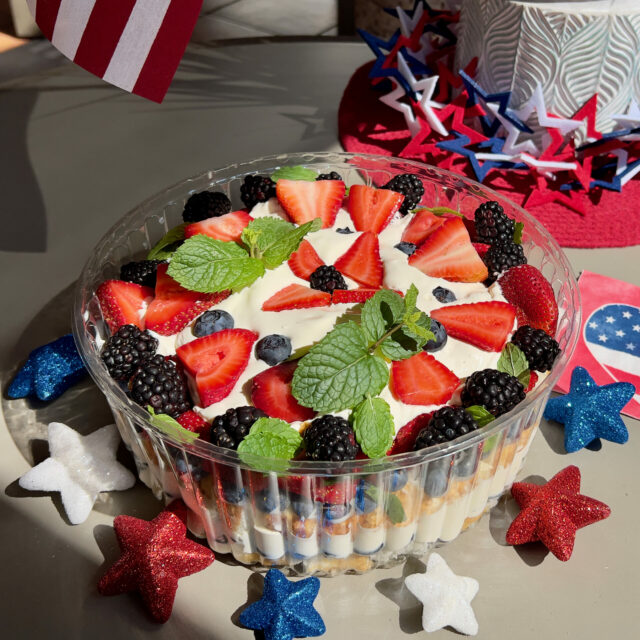 Red, White and Blue Trifle
20 minutes
|
Yield:

6-8 SERVINGS
Enjoy this delectable dessert layered with berries, whipped cream, and angel food cake, topped with the refreshing essence of Soli Organic Mint.
Ingredients
2 tubs of Cool Whip Extra Creamy topping
1 lb. Angel food cake, cubed into 1-inch pieces (lightly freezing cake prior may make it easier to cut).
2 6 oz. containers blueberries (about 2 cups)
2 6 oz. containers blackberries (about 2 1/2 cups)
1 1/2 qt. strawberries stems removed, sliced
1/4 cup chopped Soli Organic Living Mint
12 whole Soli Organic Mint Leaves for decorating the top
Directions
Place a single layer of cake cubes in a large trifle dish (about 12 to 14 cups). Use the bad cuts in the middle.
Sprinkle the chopped mint leaves evenly on top of the 1st layer of cake cubes.
Top with 2/3 of the blueberries and blackberries, arranging them neatly on the outer edge where they will be seen through the dish.
Add a layer of Cool Whip about 1 inch and work it into the crevices of the berries.
Next, add a layer of 2/3 of the strawberries. Repeat the cake and cream layers again, then decorate the top with the remaining berries.
Serve immediately or make in advance and store for up to 24 hours in the refrigerator.
Gallery