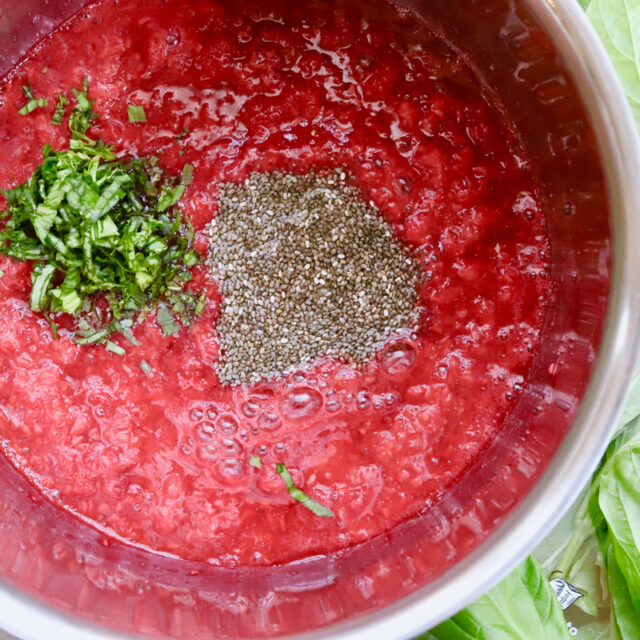 Raspberry-Basil Chia Seed Jam
15 minutes
|
Yield:

1 cup
This Raspberry-Basil Chia Seed Jam is a quick and healthy alternative to sugary, store-bought jams or jellies. Whip up a batch in as little as 15 minutes with just five simple ingredients.
Ingredients
5 – 7 Fresh Basil Leaves, thinly sliced
2 cups Fresh Raspberries
Juice from ½ Lemon + a little Lemon Zest
2 Tbsp. Chia Seeds
1 tbsp. Maple Syrup or Honey, optional for sweetness
Directions
Heat fruit in a small saucepan, making sure to stir it around every minute or so. Once heated, use a fork to break down the fruit to your desired consistency. Remove from heat.
Add lemon juice, zest, basil and chia seeds to the heated fruit. Stir all ingredients together until well combined. Taste and add maple syrup or honey if you prefer a sweeter jam.
Allow jam to cool for 5 – 10 minutes; it will thicken as it cools. Serve immediately or store in a sealed container and refrigerate for up to 5 days.
This recipe produces a savory, yet tart jam. Go ahead and adjust ingredients as you feel necessary – chia jam is a very forgiving recipe. Lemon zest will add to the tart factor, so feel free to skip it if you prefer a condiment that is on the sweeter side.