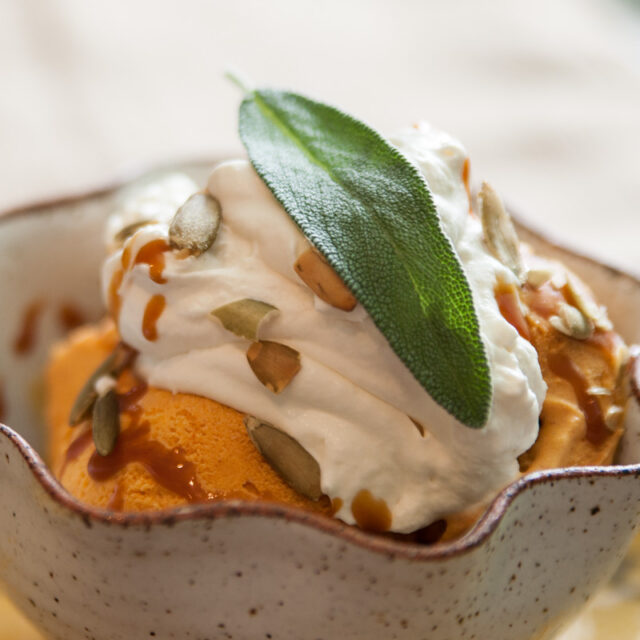 Pumpkin Sundae with Sage Caramel
30 minutes
|
Yield:

2-4 sundaes
This pumpkin sundae makes the most of fresh sage combining it with a deep, amber salted caramel sauce for a festive finale to any holiday meal. Whipped cream sweetened with brown sugar and a sprinkling of salted pepitas, or pumpkin seeds, adds a finishing touch that takes store-bought pumpkin ice cream to the next level.
Ingredients
For the Sage Caramel Sauce:
1 cup granulated sugar
2 sage leaves
1/2 cup cream
1/2 tsp salt
For the Whipped Cream:
1 cup whipping cream
1 tbsp brown sugar
For Garnish:
Salted, roasted pumpkin seeds
Extra fresh sage leaves
Directions
Prepare the Sage Caramel Sauce:
In a large sauce pan, heat sugar over medium high heat until it dissolves and turns a light amber color.
Add sage leaves and continue to cook unitl sugar turns deep amber.
Add cream and salt and stir until caramel is smooth and thick.
Prepare the Whipped Cream:
With a hand mixer whip cream until soft peaks form.
Add brown sugar and continue to whip until stiff peaks form.
Assemble the Sundaes:
Scoop a generous amount of pumpkin ice cream into a bowl.
Top with several tbsp. of caramel sauce.
Dollop with whipped cream.
Garnish with a large fresh sage leaf and a sprinkling of salted pumpkin seeds. Eat!