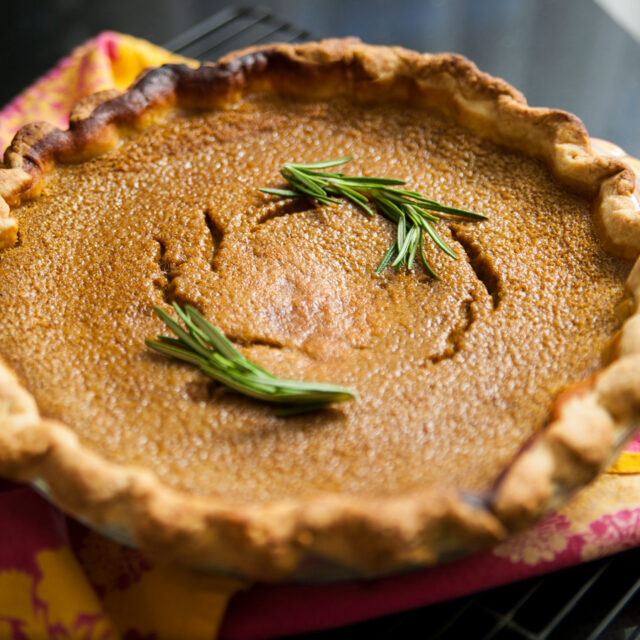 Pumpkin Pie with Rosemary Crust
1 hour 20 minutes
|
Yield:

1 pie
With all the cinnamon, nutmeg, ginger, and cloves that makes pumpkin pie such a festive holiday favorite, this recipe gets an extra-silky rich filling by browning the pumpkin puree and adding four whole eggs, whole milk, and plenty of cream. What makes this pie stand out is the rosemary in the crust—every holiday table should have a fresh twist to make the tried-and-true recipes of yesteryear sparkle like new! And of course, it wouldn't be Thanksgiving without the whipped cream.
Ingredients
Rosemary Crust:
1¼ cups all-purpose flour
½ tsp kosher salt
1 tbsp sugar
2 tsp fresh rosemary, minced
6 tbsp cold, unsalted butter
1/4 cup cold vegetable shortening
1/2 cup cold vodka
Pumpkin Filling:
2 cups canned pumpkin (NOT canned pumpkin pie filling)
1 cup brown sugar
2 tsp ground ginger
2tsp ground cinnamon
1 tsp ground nutmeg
¼ tsp ground cloves
½ tsp kosher salt
2/3 cup heavy cream
2/3 cup milk
4 large eggs
Directions
Prepare the Rosemary Crust:
Pulse flour, salt, sugar, and rosemary in a food processor until well combined.
Add butter and shortening, cut into ¼ inch pieces, and pulse until dough resembles damp sand.
Add vodka and pulse until the dough comes together into a ball.
Turn out onto wax paper and press into a flat disc. Put in the refrigerator to chill for fifteen minutes.
Meanwhile, pre-heat the oven to 375 degrees Fahrenheit.
Remove dough from refrigerator and roll out into a 12-inch circle.
Transfer dough circle to pie pan and press into pan, fluting edge on top of the pan's outer rim.
Line crust with foil and fill with pie weights. Blind bake 20-25 minutes, or until the outer edge of the crust is lightly browned. Leave oven on.
Make the Pie:
Combine pumpkin puree, brown sugar, spices, and salt in a food processor and pulse for one minute or until well-combined.
Transfer pumpkin mixture to a large saucepan and cook over medium-high heat for 5-7minutes until thick and shiny. Remove from heat.
While pumpkin mixture is cooking, whisk together heavy cream, milk, and eggs until well combined.
Whisk cream, milk, and egg mixture into pumpkin mixture.
Pour pumpkin filling into pre-baked pie shell.
Put pie in oven, and then turn oven down to 300 degrees Fahrenheit.
Bake for 45-50 minutes, or until pumpkin filling is set and starting to crack slightly, and crust is well browned. Remove from oven and let cool to room temperature and chill in the refrigerator overnight.
Serve topped with lightly sweetened whipped cream and rosemary sprigs for garnish.