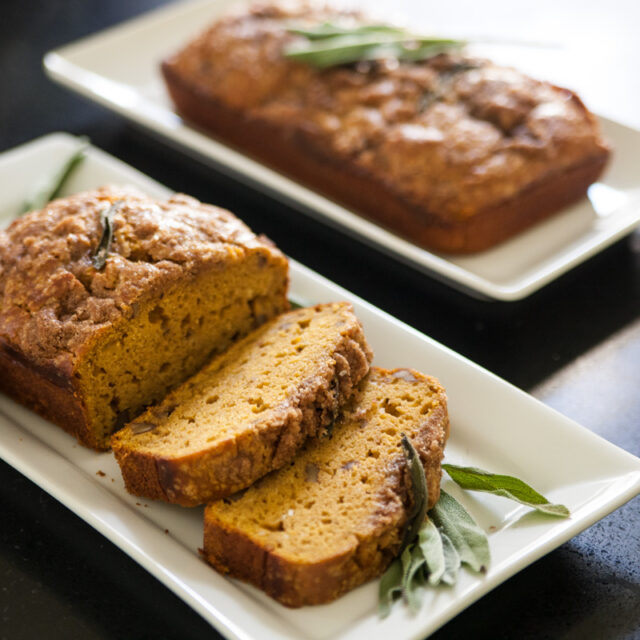 Pumpkin Bread with Candied Sage
1 hour 30 minutes
|
Yield:

1 loaf
With toasted walnuts, fresh sage, and a crumbly cinnamon sugar topping, these loaves are a perfect way to start the morning or to wrap a long autumn evening. We suggest serving the pumpkin bread with fresh butter alongside hot apple cider or hot chocolate.
Ingredients
For the Topping:
5 tbsp. packed (2 1/4 ounces) light brown sugar
1 tbsp. all purpose flour
1 tbsp. unsalted butter, softened
1 tsp. ground cinnamon
1/8 tsp. salt
For the Bread:
2 cups (10 ounces) all purpose flour
1 1/2 tsp.s baking powder
1/2 tsp. baking soda
1 (15-ounce) can unsweetened pumpkin puree
1 tsp. salt
1 1/2 tsp.s ground cinnamon
1/4 tsp. ground nutmeg
1/8 tsp. ground cloves
1 cup (7 ounces) granulated sugar
1 cup packed (7 ounces) light brown sugar
1/2 cup vegetable oil
4 ounces cream cheese, cut into 12 pieces
4 large eggs
1/4 cup buttermilk
1 cup walnuts, toasted and chopped
1 tsp fresh sage, minced + 6-8 leaves for garnishing the loaves
2 tbsp turbinado sugar for garnishing the loaves
Directions
Prepare the Topping:
Mix 5 tbsp brown sugar, 1 tbsp flour, 1 tbsp butter, 1 tsp cinnamon, and 1/8 tsp salt in a bowl until well combined--don't be afraid to use your hands! When the topping is ready, it should look like wet sand. Set aside.
Prepare the Batter:
Preheat to 350F.
Spray two 8 1/2 by 4 1/2-inch loaf pans with nonstick cooking spray.
Whisk together the flour, baking powder, and baking soda in a medium bowl. Set aside.
Combine the pumpkin puree, salt, cinnamon, nutmeg, cloves, and 1 tsp minced sage in large saucepan over medium heat. Cook the pumpkin mixture, stirring frequently, until reduced to 1½ cups (about 6 to 8 minutes).
Remove the saucepan from the heat, and stir in granulated sugar, brown sugar, oil, and cream cheese until well combined.
Whisk together eggs and buttermilk. Add the egg mixture to pumpkin mixture, and whisk to combine. Gently fold the flour mixture into pumpkin mixture until just combined.
Fold walnuts into batter.
Bake the Loaves:
Scrape the batter, half into each of the two sprayed pans.
Sprinkle the topping evenly over the top of each loaf.
Press 3-4 whole sage leaves into the top of each loaf and sprinkle with turbinado sugar.
Bake until skewer inserted in center comes out clean (about 45 to 50 minutes).
Let the loaves cool in pans on wire rack for 20 minutes. Then, remove the loaves from the pans, and let cool for at least 1 hour.
Slice and serve slathered (with fresh butter and hot apple cider?!).