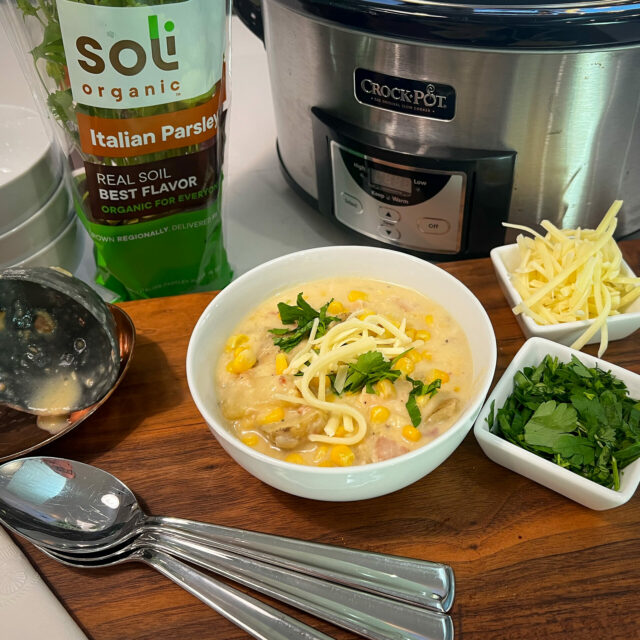 Potato Corn Chicken Chowder in the Crockpot
Here is an easy crockpot soup recipe that is truly amazing! Made with sweet corn, smoky bacon, creamy potatoes and roasted chicken, this Potato Corn Chowder is thick, hearty, and flavorful.
Ingredients
3 Slices thick cut bacon cut into 1/4 inch strips
1 Large white onion diced
2 Stalks of celery diced
3 Tbs minced garlic
1 Tsp salt
1 Tbs black pepper
2 Tbs Soli Organic Living Italian Parsley chopped plus extra for garnish
4 Cups chicken broth
5 Medium Yukon gold potatoes generally cut into consistently sized cubes
1.5 Cups frozen corn
1 Cup heavy cream
2 Tbs cornstarch
1/2 Cup swiss cheese
1 1/2 Cups cubed rotisserie chicken breast
Directions
In a large frying pan, cook bacon until cooked.
Add onion and celery until softened. Add garlic, salt, and Soli Italian parsley with a wooden spoon. Remove from heat.
Add broth, potatoes, corn, cooked bacon, and vegetables to a full-sized Crockpot set to high and stir.
Cook on high for 4 to 5 hours covered, stirring occasionally.
The potatoes should be fork soft after 4 to 5 hours. In a small bowl, combine cream and cornstarch and incorporate with a fork removing any lumps. Slowly stir the cream mixture into the crock pot. Stir in chicken, salt, and pepper to taste, and allow the soup to thicken for 30 -45 more minutes on low.
Before serving, sprinkle the Swiss cheese on top of the chowder. Serve soup, ensuring you capture the chicken, which will be resting at the bottom of the pot. Garnish with Soli Italian Parsley, and enjoy.
Gallery