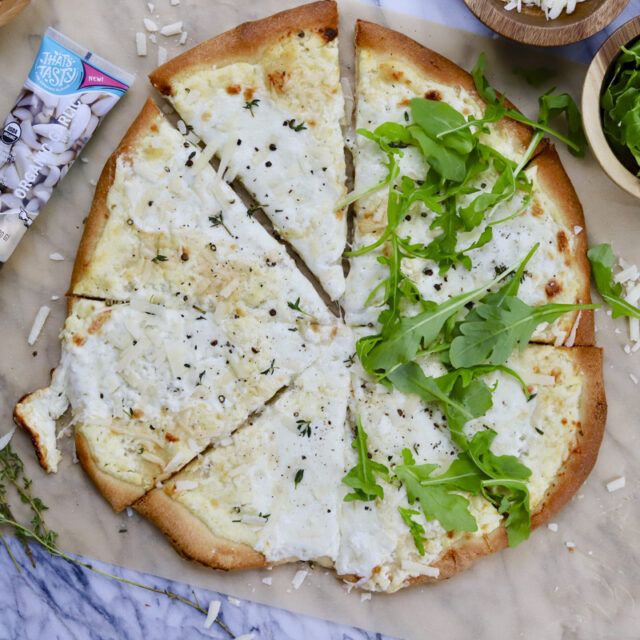 Pizza Bianca
30 minutes
|
Yield:

1 pizza
Simple and delicious, this effortless Bianca Pizza recipe is made with a few classic ingredients that will steal the show at your next pizza party. Skip the red sauce and indulge in a timeless base of smooth olive oil, flavorful garlic and creamy cheese.
Ingredients
Pre-made Pizza Dough
All-Purpose Flour, as needed for rolling
½ cup Whole-Milk Ricotta Cheese
1 tbsp. Olive Oil + more for brushing crust
1 – 2 tbsp. Organic Garlic Purée, or to taste
7 Fresh Mozzarella Slices
¼ - ½ cup grated Pecorino Romano, to taste
Optional Add-ons
Sprinkle of Fresh Thyme
Fresh Cracked Black pepper
1 cup Arugula
Directions
Preheat oven to 500F.
While the oven comes to temperature, use a rolling pin to shape the pizza dough on a floured workspace to a 12-inch round. Then carefully transfer the unbaked crust a baking sheet or pizza stone.
Mix ricotta, olive oil and Organic Garlic Purée in a small bowl, then spread evenly on the pizza dough round. Make sure to leave a small boarder for the crust.
Top with fresh mozzarella, Pecorino Romano and then brush the edges with olive oil before placing the pizza in the oven.
Bake for 14 minutes, or until the cheese is melted and starting to brown. If desired, top with optional fresh thyme, cracked black pepper, and arugula. Enjoy immediately.
If you have a favorite dough recipe, go ahead and use it! We just kept it simple here and went with fresh, store-bought. Either way, this pizza will be a tasty treat.
Are you a meat lover? Add a sprinkle of cooked pancetta or bacon before popping the pizza in the oven. This pie also pairs nicely with clams or your favorite seafood toppings for pizza as well.
Don't have Pecorino Romano on hand? No sweat, you can easily substitute with shredded parmesan.