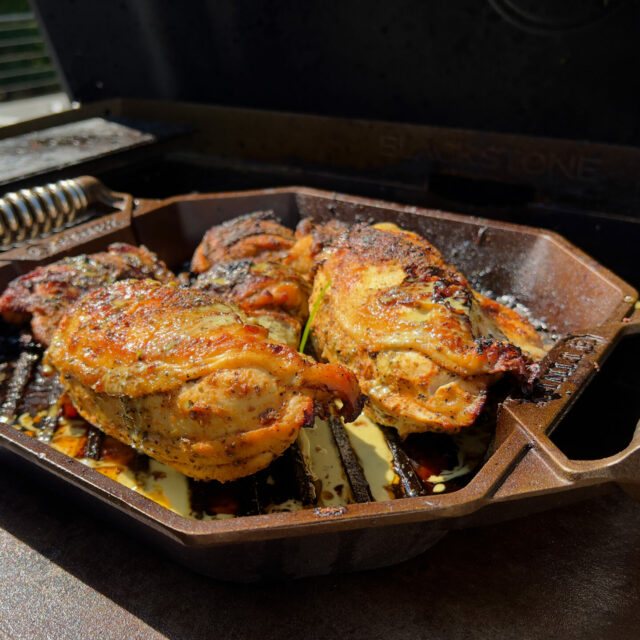 Peruvian Lime Baked Chicken with Cilantro Garlic Sauce
2 hours
|
Yield:

6-8 SERVINGS
Indulge in our Peruvian Lime Baked Chicken, marinated in zesty lime juice and aromatic spices, perfectly baked and served with a creamy cilantro garlic sauce that adds freshness and flavor.
Ingredients
1 whole chicken sectioned (about 4 pounds) or a variety of bone-in chicken parts.
-Chicken Marinade
3 tablespoons olive oil
1/4 cup lime juice
4 - 5 cloves garlic chopped
1 tablespoon kosher salt
4 teaspoons paprika
2 teaspoon black pepper
2 tablespoon cumin
2 teaspoon dried oregano
2 teaspoon granulated sugar
Cilantro Sauce
3 large jalapeños, seeds, and ribs removed
1.5 cups packed Soli Organic Living Cilantro leaves
3 cloves garlic chopped
1 cup mayonnaise
1/2 cup sour cream
Juice of one lime
3 tablespoons olive oil
Directions
Put all the chicken marinade ingredients into a bowl and whisk. Place chicken parts into 1-gallon freezer zip lock bag(s). If using more than 1 bag, evenly distribute the marinate between the chicken and place massage into the chicken. Refrigerate for 4 - 12 hours, occasionally massaging and repositioning the chicken to ensure it is thoroughly spread to all pieces.
When ready to cook, put the chicken skin side down, into a pre-heated large cast iron pan on your Blackstone griddle or grill adjusted to 400-425 degrees F with the lid down. Cook the chicken for 20 -25 minutes to sear, then reduce the heat to 350 degrees F and continue to cook for about 1 hour and 15 minutes more, or until the chicken is cooked through. If it begins to get too crispy on top, cover it with aluminum foil. The cooking time will vary depending on your particular grill and the size of the chicken. Remove the chicken and let it rest 10 minutes before carving it into pieces.
While the chicken bakes blend the sauce ingredients and refrigerate until serving.
Gallery