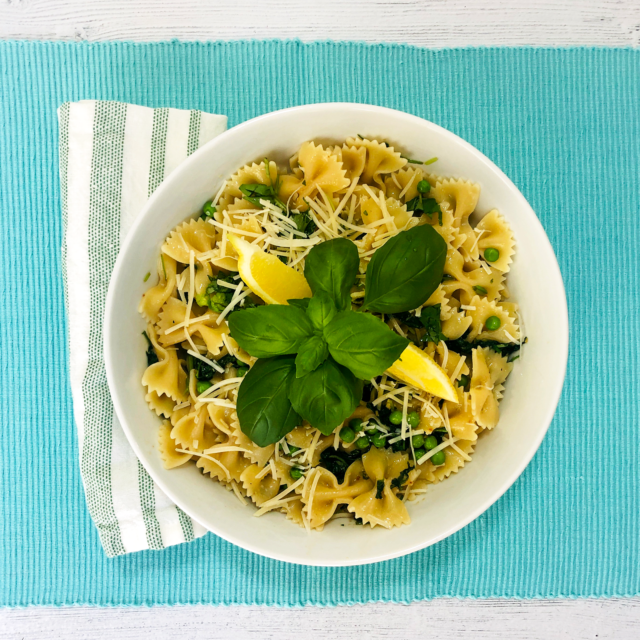 Parsley & Basil Pasta Salad
1 hour
|
Yield:

6-8 SERVINGS
Are you looking for a light and straightforward vegetarian side for the family picnic that can go the distance in warm weather? Try this easy Basil and Parsley cold pasta salad. So grab your ingredients and let's get cookin'!
Ingredients
10 oz. pasta (rotini)
1/4 cup extra-virgin olive oil
3 cloves minced garlic or try our TT garlic puree
1/4 cup fresh Soli Organic Basil (chopped)
1/4 cup fresh Soli Organic Italian Parsley (chopped)
1/2 cup fresh green peas
1/4 cup Parmesan cheese (grated)
2 tbsp. lemon juice
salt and pepper to taste
Directions
Prepare the pasta according to the package instructions. Add fresh peas to the pasta for the last 4 minutes of prep. Drain and allow it to cool.
Heat about 2 tbsp. of olive oil in a skillet over medium heat and add the minced garlic. Cook for just a minute or two, stirring, and then reduce the heat to low and add the peas, chopped fresh basil, and parsley. Cook gently until heated and then remove from stove and allow to cool.
In a large bowl, combine the cooked and drained pasta and peas with all of the remaining ingredients, including the cooked garlic and herbs, the remainder of the olive oil, lemon juice, and Parmesan cheese. Season generously with salt and pepper to taste.
Toss your pasta salad well and serve it cold. You may also want to let it chill for an hour or two in the refrigerator before serving to let the flavors develop.
This is adapted from a version of https://www.thespruceeats.com/easy-cold-herbed-pasta-salad-recipe-3377313