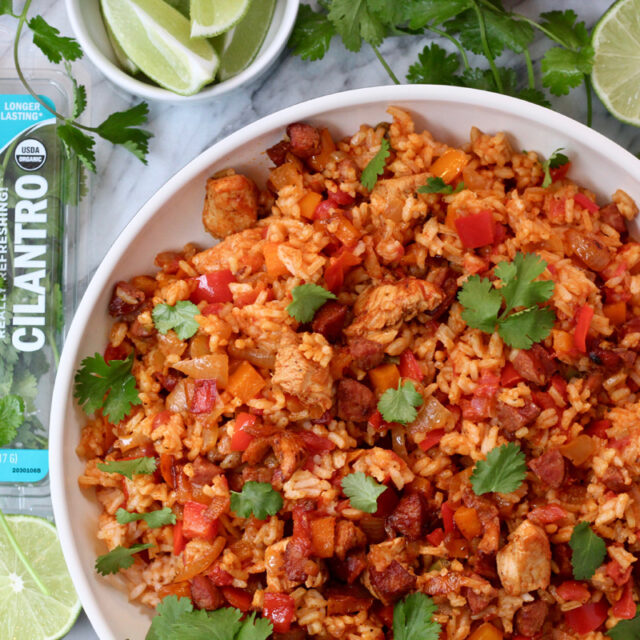 One Skillet Jambalaya
45 minutes
|
Yield:

6 servings
Originating in Louisiana, Jambalaya is traditionally made with peppers, celery and onions that are nestled in a bed of rice that's spiced with andouille sausage, chicken and bold Southern seasonings. Shrimp is also a great addition to this recipe if you have some on hand.
Ingredients
Olive Oil, as needed
1 – 2 tsp. Cajun or Blackening Seasoning, to taste
2 Chicken Breasts, cut into bite-sized chunks
4 Andouille Sausages, cut into chunks
1 small White Onion, chopped
1 Bell Pepper (any color), chopped
2 ribs of Celery, chopped
2 cloves of Garlic, minced
1 (14.5 oz) can Diced Tomatoes with Green Chilies
2 cups Chicken Stock
1 cup Long Grain White Rice
Lime Wedges, for serving (optional)
Fresh Cilantro, chopped for garnish
Directions
Season chicken and sausage with desired seasonings. Sauté in a large skillet for 5 – 6 minutes with a tbsp. of olive oil over medium-high heat. Don't worry about cooking the chicken all the way through, it will continue to cook later. Once browned, transfer to a plate with a slotted spoon and set aside.
Sauté onion, bell pepper and celery in the remaining oil that's left in the pan (that's where all the flavor is!) for 5 minutes. Add garlic and continue to cook for an additional minute.
Add reserved meat, the can of tomatoes, chicken stock and long grain white rice to the skillet. Bring to a soft boil and then turn the heat to medium low and cook, covered, for 15 minutes.
Remove from heat, stir together and then allow the jambalaya to cool for 5 – 6 minutes uncovered. This will allow flavors to finish blending and any leftover juices will thicken.
Serve with a hefty sprinkle of fresh cilantro and lime wedges.