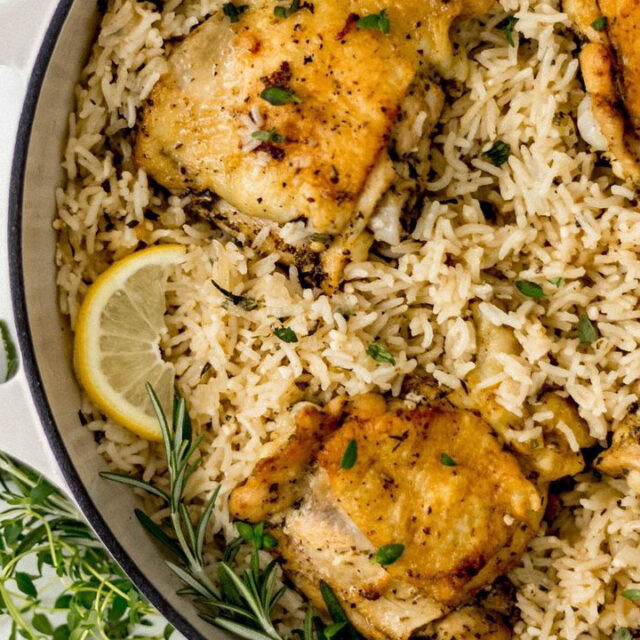 One Pan Herb Chicken and Rice
1 hour
|
Yield:

4-6 servings
Keep things simple this holiday season with a comfort food classic.
Ingredients
1 tsp garlic powder
1 tsp Italian seasoning
½ tsp salt
¼ tsp ground black pepper
¼ tsp paprika
2 lbs chicken thighs
2 Tbsp olive oil
4 cloves garlic, minced
1 cup onion, diced
1 Tbsp Thyme, freshly chopped
1 Tbsp Rosemary, freshly chopped
1 cup uncooked basmati rice
2 ¼ cups chicken broth
Directions
Add the garlic powder, Italian seasoning, salt, pepper, paprika, and chicken thighs to a gallon size storage bag. Close and shake to coat the chicken in the spices. Set aside.
Use a large braiser on medium-high heat, add the olive oil, and chicken skin side down. Cook for 3-5 minutes until the skin is golden and slightly crispy. Turn to the other side and cook for an additional 2-3 minutes before removing from the pan.
Add the onion and garlic to the pan. Adjust the heat to medium and add the chicken broth, fresh organic thyme, fresh organic rosemary, and rice. Stir to combine, add the chicken thighs half-submerged, cover, and cook for about 25-30 minutes. Until the rice has absorbed the liquid and the chicken is cooked to an internal temperature of 165 F.