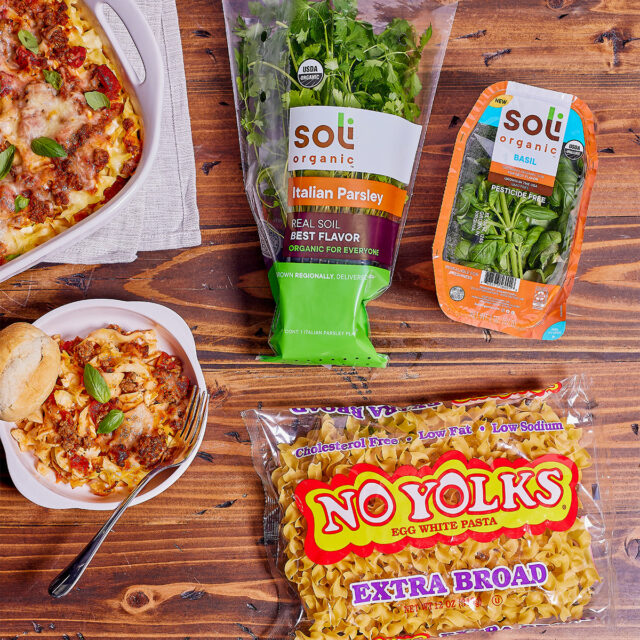 No Yolks Lasagna Bake
1 hour 30 minutes
|
Yield:

8 Servings
Fall is the time for family dinners full of comfort food, and No Yolks Extra Broad Noodles create a mouthwatering lasagna bake with pops of flavor from Soli Organic Basil.
Ingredients
12 ounces No Yolks Extra Broad Noodles
1 tablespoon vegetable oil
1 tablespoon minced garlic
1 small onion, diced
1 pound ground beef
24 ounces marinara sauce
14.5 ounces diced tomatoes
3 cups cottage cheese
1 egg
⅓ cup grated parmesan
1 tablespoon Soli Organic Basil
2 cups shredded mozzarella
Soli Organic Italian Parsley, for garnish
Directions
Preheat your oven to 350° and grease a 9x13 baking dish.
Following package instructions, cook No Yolks Extra Broad Noodles.
Over medium-high heat, sauté the onion and garlic in a large skillet with vegetable oil until softened, about three to five minutes. Add the ground beef and cook until browned. Mix in the sauce and tomatoes before setting aside.
Mix together the cottage cheese, egg, parmesan, Soli Organic Basil, and 1 cup of mozzarella. Add the No Yolks Extra Broad Noodles.
Spread half of the noodle mixture in the pan, top with half of the sauce, and repeat. Sprinkle 1 cup mozzarella on top.
Cover with foil and bake for 40 minutes. Uncover for the last 5 minutes.
Garnish with chopped Soli Organic Italian Parsley and serve. Enjoy!
Gallery