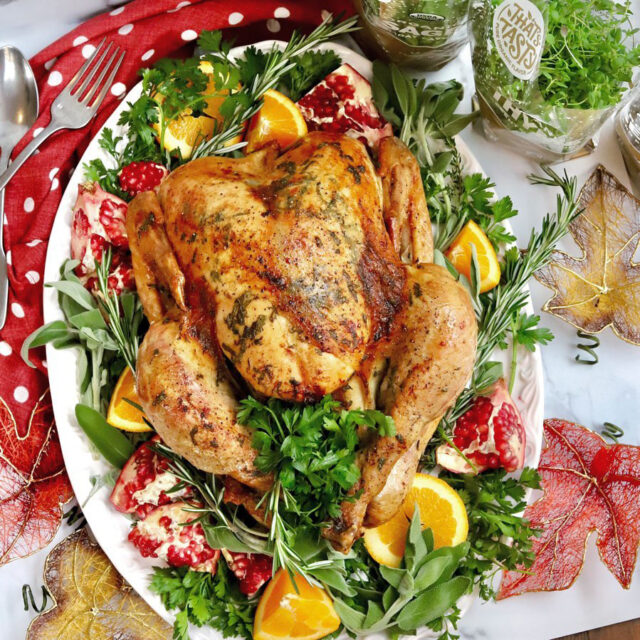 No-Fuss Golden Sage Thanksgiving Turkey
3 hours 45 minutes
|
Yield:

8-10 Servings
Smothered in sage-infused garlic butter, this Thanksgiving Turkey is golden-crisp on the outside, succulent and tender in the middle.
Ingredients
FOR THE TURKEY
14 lb. Whole Turkey, skin on (fully defrosted)
1 Lemon, quartered
1 Orange, quartered
½ Large Gala Apple, cut into slices
1 small White Onion, quartered
3 sprigs Fresh Thyme
2 sprigs Fresh Rosemary
GARLIC HERB BUTTER
4 tbsp. Salted Butter, softened
3 Garlic Cloves, minced
10 Sage Leaves, chopped
3 sprigs Fresh Thyme
Salt + Freshly Cracked Black Pepper
OPTIONAL GARNISHES
Fresh Herbs (Italian Parsley, Sage, Rosemary and Thyme)
Pomegranates
Orange Slices
Directions
Thaw the frozen turkey in your refrigerator until defrosted. You'll need 24 hours for every 5 pounds.
Remove the thawed turkey from the fridge 1 - 3 hours before roasting, to allow for it to come to room temperature. Timing will vary depending on the size of your turkey.
Adjust the oven rack to ensure it is in the center. Preheat oven to 325 degrees F.
Whip together all ingredients for the garlic herb butter and set aside.
Unwrap the turkey from its packaging and remove the neck and giblets. They are usually stored in the cavity of the bird. Use for gravy or discard.
Stuff the cavity with the quartered lemon, orange, apple, onion and herbs.
Use your fingers to loosen and lift the skin above the breasts and smear a couple tbsp. of the herb butter underneath.
Tuck the wings underneath the turkey and set the turkey on a roasting rack inside a roasting pan.
Microwave the remaining herb butter mixture for 30 seconds spread all over the outside of the turkey, legs and wings.
Roast at 325 degrees F for roughly 15 minutes per pound, or until internal temperature (inserted on middle of thigh and breast) reaches 160 - 165 degrees F.
Remove the turkey from the oven and tent with foil. Allow the turkey to rest for 25 - 30 minutes before carving.