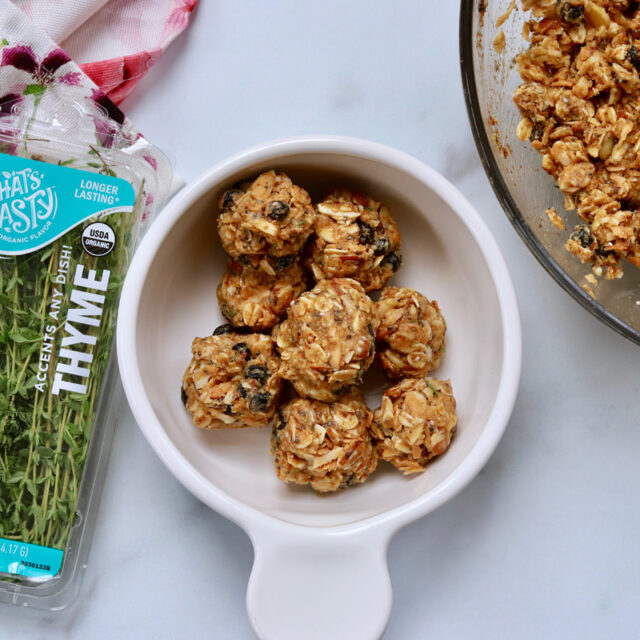 No Bake Blueberry-Thyme Energy Bites
10 minutes
|
Yield:

24 Bites
Ditch that pricey gas station candy bar and pack a batch of our delicious energy bites for your next road trip! Chock-full with vitamins and protein, these snacks will give you the fuel you need to stay energized while you travel to your next destination.
Ingredients
1 cup Old Fashioned Oats 
1/2 cup Almond Slices
1/2 cup Toasted Coconut Flakes
1/2 Cup Dried Blueberries
1/4 cup Ground Flax Seeds
1/4 tsp. Salt 
Up to 1 Tbsp. Fresh Thyme, to taste
1 Tbsp. Chia Seeds
1 Tbsp. Hemp Hearts
1/2 cup of Nut Butter
1/3 cup Honey
1 tsp. Vanilla Extract
Directions
Toss all dry ingredients together in a large mixing bowl.
Add liquid ingredients and stir until well combined.
Refrigerate for at least an hour to chill.
Roll into bite-sized energy bites and enjoy immediately.
If you're customizing your mix-in flavors and notice that your batch is a little dry, add more nut butter. If it's a little wet, add more oats or ground flax seeds. There's no right or wrong when it comes to this recipe, so have fun with it!
Store bites that are not consumed right away in an air tight container. They can be refrigerated for up to a week or placed in the freezer for a longer shelf life.