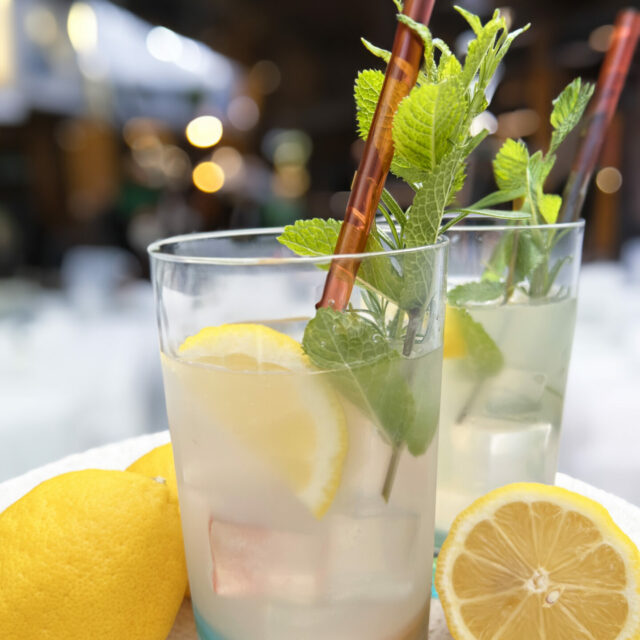 Mint and Rosemary Lemonade with Vanilla
10 minutes
|
Yield:

6 Servings
Enjoy the refreshing Mint and Rosemary Lemonade with Vanilla! It's a perfect drink for hot summer days.
Ingredients
1 cup fresh lemon juice (about 6-8 lemons)
4 cups water
1/2 cup granulated sugar (adjust to taste)
1/4 cup fresh Soli Organic Mint leaves
2 sprigs fresh Soli Organic Rosemary
1 teaspoon vanilla extract
Ice cubes
Lemon slices and fresh mint sprigs for garnish
Directions
In a small saucepan, combine 1 cup of water and the granulated sugar. Heat the mixture over medium heat, stirring constantly, until the sugar is completely dissolved. This creates a simple syrup. Remove from heat and let it cool.
In a large pitcher, combine the fresh lemon juice, remaining 3 cups of water, and the cooled simple syrup. Stir well to mix.
Take the fresh mint leaves and gently rub them between your hands to release their natural oils. Add the mint leaves to the pitcher.
Take the fresh rosemary sprigs and bruise them slightly by gently pressing them with the back of a spoon. This helps release the flavor. Add the rosemary sprigs to the pitcher.
Stir in the vanilla extract. Make sure all the ingredients are well combined.
Place the pitcher in the refrigerator and let it chill for at least 1 hour to allow the flavors to infuse.
When ready to serve, fill glasses with ice cubes. Pour the mint and rosemary lemonade over the ice.
Garnish each glass with a slice of lemon and a sprig of fresh mint and or rosemary.
Stir gently and serve immediately.
Gallery