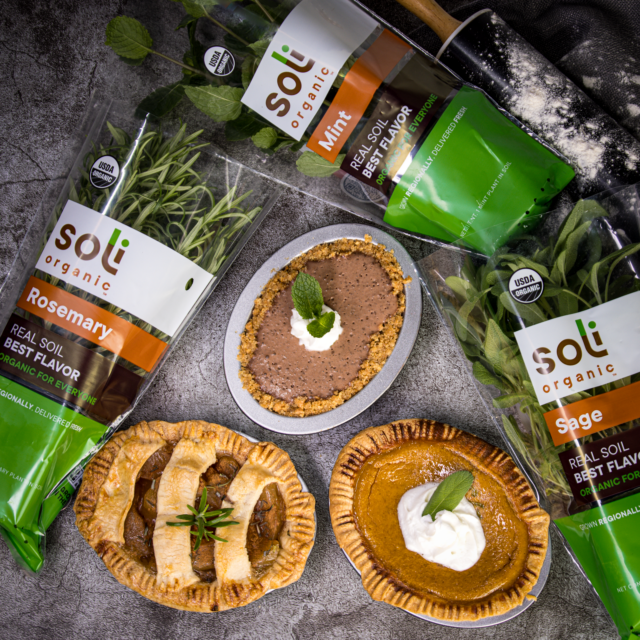 Mini Pies for the Holidays: Chocolate with Mint, Apple with Rosemary, and Pumpkin with Sage
1 hour
|
Yield:

6 Mini Pies
Add a delightful twist to your holiday dessert table with a trio of Mini Pies – Chocolate with Mint, Apple with Rosemary, and Pumpkin with Sage  – offering a fusion of seasonal and sweet flavors. Let's start with the Chocolate with Mint.
Ingredients
1 pkg. (3.9 oz.) Chocolate Flavor Instant Pudding 
1-3/4 cups cold milk 
6 mini ready-to-use graham cracker crumb crusts (4 oz.) 
1 oz. Mint Baking Chips
Whipped Cream topping
Fresh Soli Organic Mint for garnish
Directions
Beat pudding mix and milk with whisk 2 min. 
Melt Baking Chips and add to pudding mixture
Spoon into graham crusts, adding about 1/2 cup to each.
Refrigerate 1 hour. Top with remaining ingredients before serving.
Apple with Rosemary Mini Pie
Ingredients:
1 (14.1-ounce) package prepared pie crusts
1 1/4 cups chopped apples
3 Tablespoons  granulated sugar
1 Tablespoon all-purpose flour
1 Tablespoon  chopped fresh Soli Organic Rosemary
1/2 teaspoon ground cinnamon
1/2 teaspoon pure vanilla extract
⅛ teaspoon ground nutmeg
Instructions:
Preheat the oven to 425°F (220°C).
Roll the pie crust out to 1/8-inch thickness on a lightly floured surface. Using a 3.5-inch cookie cutter (or a cup) cut out 6 circles from the pie crusts.
Place each pie crust in your mini pie or muffin pan. Gently press the dough down and around the sides, making sure the dough fits snuggly.
In a large mixing bowl, mix together the chopped apples, sugar, flour, rosemary, ground cinnamon, vanilla extract, and ground nutmeg until fully combined.
distribute the apple pie filling
Remove the extra pie dough from the refrigerator, cut out your designs for the tops of the pies, and place them on top.
Bake for 18 to 23 minutes or until the pie crust is lightly golden brown and the filling is bubbly. Remove from the oven and set aside to cool for 10 to 15 minutes. Carefully remove the mini pies from the pan and transfer to a wire rack to finish cooling.
Pumpkin with Sage Mini Pie
Ingredients:
Cooking spray
1 (14.1-ounce) package prepared pie crusts
1 (15-ounce) can pumpkin purée
1/2 cup  sweetened condensed milk
1 large egg
1 Tablespoon chopped fresh Soli Organic Sage
1 teaspoon pumpkin pie spice
1/4 teaspoon kosher salt
Instructions:
Heat the oven to 375°F. Arrange a rack in the middle of the oven and heat to 375°F. Coat a standard 12-cup muffin pan with cooking spray.
Prepare the pie dough. Unroll the prepared pie crusts out onto a cutting board. Use a 3 1/2-inch round cutter or the lid of a wide-mouth jar with about the same diameter to cut 6 rounds out of each sheet of pie dough (12 rounds total). You'll have some excess pie dough, which you can use to decorate the pies or discard. Press one round into each cup of the prepared muffin tin. Really press the pie dough into the corners of each, doing your best to avoid puncturing the dough.
Make the filling. Place the pumpkin purée, sweetened condensed milk, egg, sage, pumpkin pie spice, and salt in a medium bowl and whisk until smooth.
Fill the mini pies. Fill each mini pie with 3 tablespoons of filling. Each pie will be about 2/3 of the way full, but the filling will puff and rise in the oven. Use the back of a spoon to smooth out the filling.
Bake the mini pies for 25 to 30 minutes. Bake the pies until the filling is set (the centers should register at least 200°F and a toothpick inserted in the center should come out clean), 25 to 30 minutes.
Cool the pies and serve. Let the pies cool in the pan for 10 minutes. Use a small offset spatula or butter knife to pop the pies out of the muffin tin. Transfer them to a cooling rack and cool completely, about 1 hour. Serve at room temperature with whipped cream and sage to garnish.
Gallery