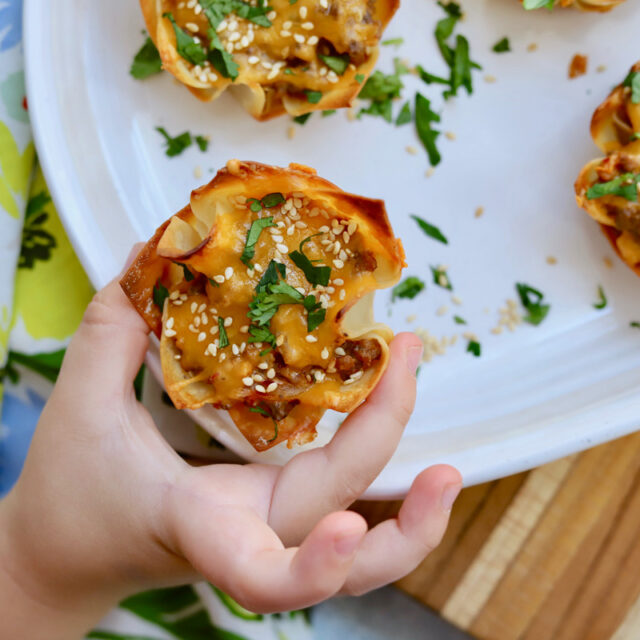 Korean Beef Wonton Cups
35 minutes
|
Yield:

24 Wonton Cups
These bite-sized wonton cups are fully-loaded with Korean spiced beef, sour kimchi, smooth cream cheese, savory cheddar, and topped with fresh cilantro.
Ingredients
48 Wonton Wrappers
1 lb. Ground Beef
1 tsp. Ginger Purée
2 tsp. Garlic Purée
2 tbsp. Liquid Aminos (or Reduced Sodium Soy Sauce)
1 tsp. Pure Sesame Oil
2 tbsp. Dark Brown Sugar, packed
1/4 tsp. Red Pepper Flakes, optional
1/2 cup Mild or Spicy Kimchi, chopped
4 ounces Cream Cheese
½ cup shredded Sharp Cheddar Cheese
Fresh Cilantro Leaves, as needed for garnish
Sesame Seeds, as needed for garnish
Directions
Preheat oven to 400F.
Cook ground beef in a large pan over medium-high heat until browned.
While meat is cooking, spray 2 muffin pans with non-stick cooking spray. Place two wonton wrappers in the bottom of each cup, overlapping slightly so the edges are crossed over one another in a star pattern.
Precook the wrappers for 10 minutes, remove and turn heat down to 350F.
Whisk the ginger purée, garlic purée, liquid aminos, sesame oil, brown sugar and optional pepper flakes in a medium-sized mixing bowl. Set aside.
Once the meat is cooked, drain and return to pan. With heat on low, pour the spiced liquid over the beef and cook for an additional 5 minutes. The mix of meat and spices will thicken.
Pour the warmed beef in a large mixing bowl with chopped kimchi and cream cheese. Mix until well combined.
Place a spoonful of the beef mixture in each wonton cup and sprinkle the tops of each with cheese. Bake for 10 - 12 minutes, or until cheddar has melted and the edges of each wonton cup are crispy.
Remove each cup from the muffin pan and allow them to cool for 5 minutes before serving. Sprinkle each with Fresh Cilantro for an extra layer of flavor!