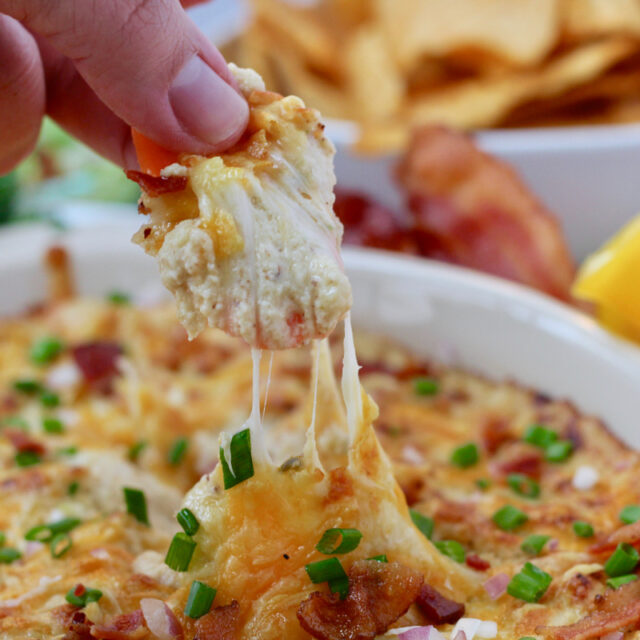 Keto Friendly Cauliflower-Bacon Dip
Cauliflower-Bacon Dip is the perfect game day recipe. The mouthwatering blend of roasted cauliflower, smooth cheese, salty bacon and creamy sour cream is absolutely addicting. Need we say more?
Ingredients
1-pound cauliflower florets
1 tbsp. olive oil
Salt and pepper, to taste
2 cloves garlic
1 cup sour cream
2 cups freshly grated cheese + a sprinkle for topping
4 slices of cooked bacon crumbled
¼ cup fresh chives, chopped + garnish
Optional: 1 tbsp. red onion, chopped for garnish
Low-carb keto veggie suggestions for dippers:
Zucchini
Broccoli
Mini Bell Peppers
Carrot Chips
Asparagus
Cauliflower
Celery
Directions
Preheat oven to 425F.
In a large bowl, toss cauliflower florets with olive oil, salt and pepper together and then pour evenly onto a large baking sheet. Roast until golden, turning halfway through, for about 25 minutes.
Allow roasted cauliflower to cool to room temperature (Optional: Using a clean dish towel, squeeze any excess water out of the cauliflower. This will give you a thicker dip).
Transfer cauliflower to your food processor and pulse together with the garlic, sour cream, 2 cups grated cheese, crumbled bacon and ¼ cup chopped chives.
Transfer mixture to a baking dish and sprinkle with additional cheese. Bake for 20 – 25 minutes, or until the cheese is starting to brown and the inside is warmed.
Serve with your desired dipping companions and enjoy immediately.
We love mixing up the blends of cheese in this recipe. Like your appetizers with a bit of a kick? Use one cup of cheddar alongside one cup of pepper jack.
Add a few shakes of your favorite hot sauce for extra zing.
Serve with smashed avocado that's topped with chives, salty bacon, and a squeeze of fresh lime juice. Swoon.