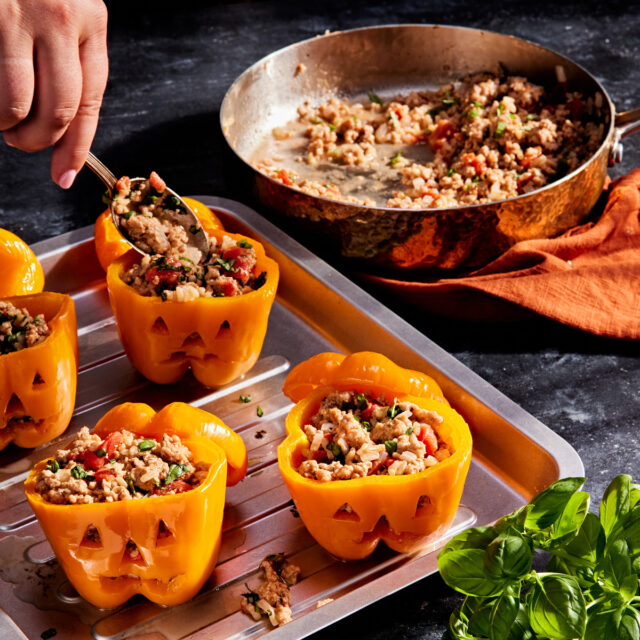 Jack-o'-Lantern Stuffed Peppers
45 minutes
|
Yield:

6 servings
We have a new favorite festive dinner for spooky season! These Jack-O-Lantern stuffed peppers with Organic Basil are just as fun to carve as they are to eat.
Ingredients
6 orange bell peppers
2 tablespoons olive oil
1 medium yellow onion, finely diced
1 pound ground turkey or chicken
2 teaspoons Soli Organic Basil, plus 1 tablespoon for garnish
1 14.5-oz. can diced tomatoes
1 cup cooked brown rice
1 cup mozzarella cheese, grated
¼ cup parmesan cheese, grated
Salt and pepper
Directions
Preheat oven to 350°F.
Remove the tops, seeds, and membranes from the bell peppers and carve them with jack-o-lantern faces.
Brush the peppers with olive oil and bake for about 10 minutes, or until almost cooked.
In a non-stick pan, saute onion until soft and translucent. Mix in ground turkey or chicken, Soli Organic Basil, salt, and pepper.
Brown the meat, add the diced tomatoes, and combine.
Mix in cooked rice, grated mozzarella, and parmesan and on medium heat until cheese is melted. Season with salt and pepper.
Spoon the meat mixture into each bell pepper, then garnish with more mozzarella cheese.
Bake for 10 more minutes. Remove from the oven and enjoy!