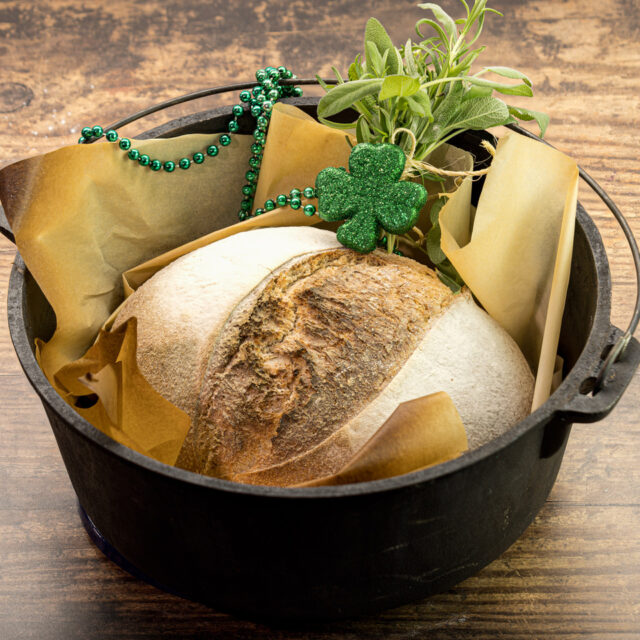 Irish Soda Bread with Rosemary and Sage
Ah, Irish soda bread! A classic that's been a staple in Irish households for centuries. And what's better than adding delicious herbs like Rosemary and Sage to the mix?
Ingredients
2 cups All Purpose Flour
2 cups Whole Wheat Flour
2 teaspoons fresh Baking Soda
3 tablespoons Chopped Soli Organic Living Rosemary
3 tablespoons Chopped Soli Organic Living Sage
1 tsp Salt
1 ¾ cup Buttermilk
Directions
Preheat oven to 425 degrees. Line a dutch oven with parchment paper
In a large bowl, whisk together the flours, baking soda and salt and chopped herbs.
Slowly stir in buttermilk until the dough comes together in a ball.
Gently kneed for 20 seconds using additional flour to keep it from sticking to the surface and your hands.
Conform the dough into a ball and place it in your Dutch oven.
Sprinkle small amount of flour on top of the dough.
Using a sharp knife make 3 slices across the top of the dough to allow it to expand.
Place lid on top of Dutch oven.
Bake for 20-25 minutes, covered, then remove the lid and bake for an additional 20 minutes or so until the crust is golden brown and crispy.
Allow to cool 10 minutes, then transfer to cooling rack. Serve warm or at room temperature.
Gallery