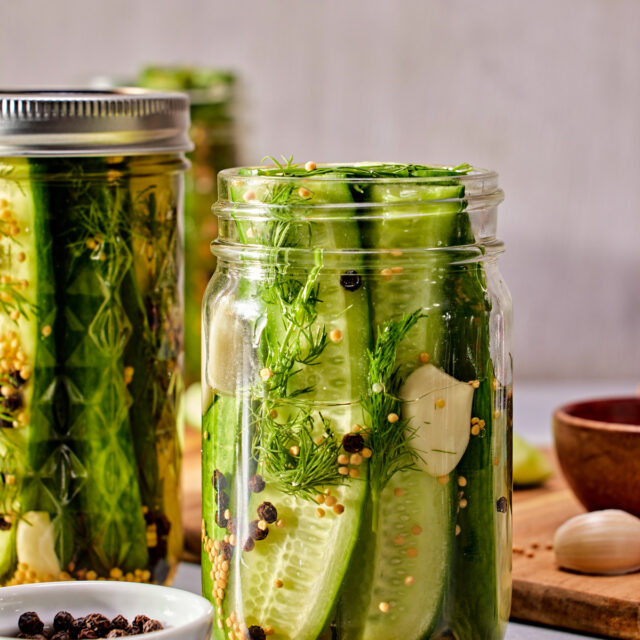 Homemade Pickles
10 minutes
|
Yield:

16 SERVINGS
Homemade is always better than store bought, right? Use fresh Dill to create easy homemade pickles, perfect for summer sandwiches.
Ingredients
12 to 14 Persian cucumbers or 8 to 10 pickling cucumbers
4 garlic cloves, halved
2 teaspoons mustard seeds
2 teaspoons peppercorns
3 Soli Organic Dill sprigs, per jar
2 cups water
2 cups distilled white vinegar
¼ cup cane sugar
2 tablespoons sea salt
Directions
To make dill pickle spears, slice the cucumbers lengthwise into quarters.
Divide the cucumbers among 4 (8-ounce) or 2 (16-ounce) jars. Divide the garlic, mustard seeds, peppercorns, and dill sprigs among each jar.
Heat the water, vinegar, sugar, and salt in a medium saucepan over medium heat. Stir until the sugar and salt dissolve, about 1 minute. Let cool slightly and pour over the cucumbers. Set aside to cool to room temperature, then store the pickles in the fridge.
Pickle spears will be lightly pickled in 2 days, but their best flavor will start to develop around day 5 or 6. Store in the fridge for several weeks.
Gallery