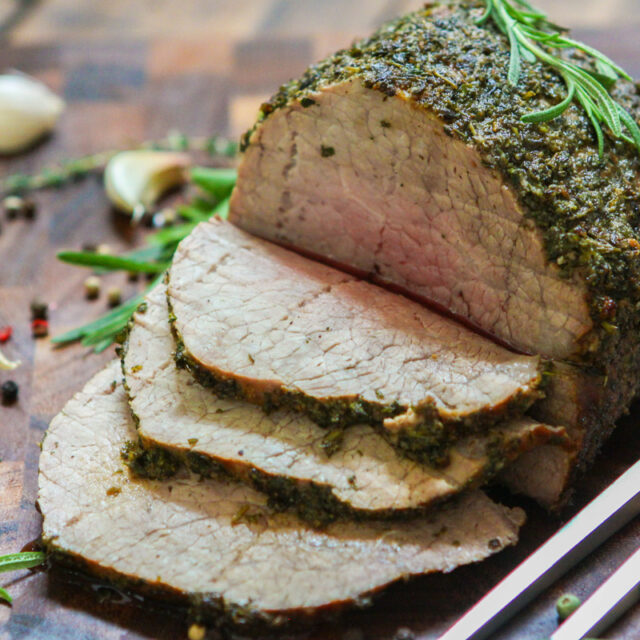 Herb Roasted Beef for a Crowd
There's nothing like roast beef to please a crowd and when that roast beef is tender, flavorful, and perfectly seasoned, it's worthy of taking center stage at your holiday table. Roasted with fresh thyme, rosemary, parsley, and red wine, this is a rich main course that is sure to keep guests coming back for seconds.
Ingredients
3-4 lb beef roast, such as eye of round
1 tbsp. chopped fresh thyme
1 tbsp. chopped rosemary
1 tbsp. chopped Italian Parsley
2 tsp.s salt
1 tsp. freshly ground black pepper
2 tsp.s olive oil
Cooking Spray
1 1/2 cups beef broth
1/2 cup red wine
Directions
In a small bowl, stir together the Thyme, Rosemary, Italian Parsley, salt and pepper. Rub the herb mixture over the entire surface of the roast. Using plastic wrap, wrap the roast tightly and refrigerate for 24 hours.
After refrigerating, preheat the oven to 400 degrees F.
Set a large skillet, either nonstick or a well-seasoned cast iron pan, over medium-high heat. Heat the olive oil. Remove the plastic wrap from the beef and add the beef to the pan. Cook it for a total of 5-7 minutes, turning to brown all sides.
Grease a small roasting rack with cooking spray. Place the rack in a roasting pan that is large enough for the roast you have selected. Bake the roast at 400 degrees F for 40 – 60 minutes, or until the roast reaches 135 degrees F (medium rare) when tested with a meat thermometer in the center of the roast, or until your desired doneness.
After cooking, remove the roast and let stand for 10 minutes on a cutting board or platter before slicing.
Meanwhile, add the beef broth and red wine to the roasting pan. Scrape any remaining browned bits on the bottom of the pan, and then transfer the mixture to a skillet over medium heat.
Bring the mixture to a simmer. Add 1 small spring of rosemary and thyme to the pan while it simmers. Reduce to 1 cup. If desired, you may thicken the mixture with flour or cornstarch. Serve alongside the sliced beef, discarding the herbs.
Photo and recipe created by Katie Goodman, GoodLife Eats, www.goodlifeeats.com