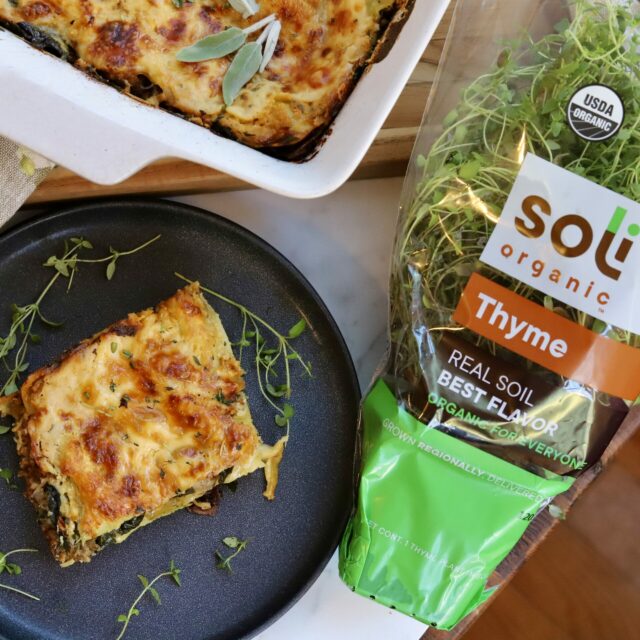 Herb and Sausage Butternut Squash Lasagna
This lasagna is meant for your dinner table this holiday season. It's packed with sausage, a butternut ricotta and our fresh, organic Thyme and Sage herbs.
Ingredients
FOR THE BUTTERNUT SAGE RICOTTA
13 oz. Butternut Squash Cubes, roasted
6 Soli Organic Fresh Sage Leaves
1 cup Ricotta Cheese
2 Garlic Cloves
1/4 cup Half and Half
1/2 tsp. Salt
1/4 tsp. Nutmeg
FOR THE THYME BÉCHAMEL:
2 tbsp. Butter
2 tbsp. All Purpose Flour
2 cup Milk
1 tbsp. Soli Organic Thyme Leaves
1/4 tsp. Nutmeg
4 oz. Shredded Parmesan
FOR THE LASAGNA:
1 Yellow Onion, caramelized
1 lb. Ground Sausage, browned
1 cup Ricotta Cheese
6 oz. Fresh Spinach
16 oz. Mozzarella, shredded
8 oz. Lasagna Noodles
Directions
Preheat the oven to 400F. Season the squash with salt, pepper, and drizzle with olive oil. Roast in a single layer on a baking sheet for 25 minutes.
While the butternut squash roasts, sauté the yellow onion and brown the sausage. Set aside.
Once cooked, puree the roasted butternut squash with sage, 1/2 cup ricotta, garlic, half and half, salt, and nutmeg in a food processor or blender. Set aside.
Add the butter to a large skillet over medium-high heat. Once melted, add the flour and whisk continuously, until the mixture has turned golden brown. Slowly add the milk, continuing to whisk and bring to a boil. Once thickened, mix in the Soli Organic Thyme, nutmeg and shredded parmesan.
Layer the bottom of your baking dish with 1/3 of the thyme béchamel. Then layer with noodles and cover with half of the butternut sage ricotta. Then layer with noodles again and cover with 1/3 of the thyme béchamel, half the shredded mozzarella, ground sausage, caramelized onion, and the spinach. Layer with noodles and cover with the remaining amount of thyme béchamel, butternut sage ricotta and sprinkle with the remaining mozzarella.
Turn the oven down to 375F. Cover the lasagna with foil and bake for 30 minutes. Remove foil, turn the oven up to 400F and continue to bake for 25 minutes, or until golden on top. Garnish with fresh Soli Organic Thyme and Sage before serving.
Gallery