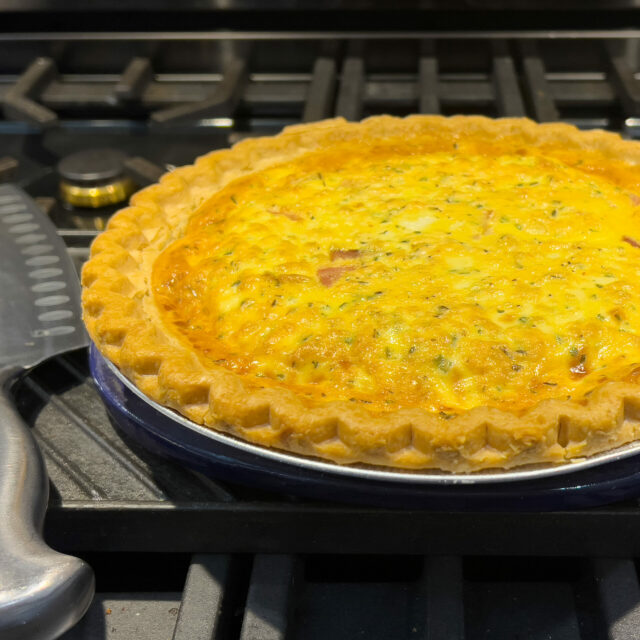 Ham, Cheddar & Rosemary Breakfast Quiche
This smooth and cheesy Ham and Herb Quiche with fresh Rosemary is incredibly versatile, creamy, and delicious.
Ingredients
1 8" frozen pie crust
7 Eggs
1/2 cup half and half or whole milk
1/2 of a 5.2 oz package of Boursin shallot and chive gourmet cheese
1 Tbsp. Emeril's Original Essence seasoning
1 Tbsp. finely chopped Soli Organic Living Rosemary
1 Cup quality shredded cheddar cheese (we recommend a triple blend)
2 Slices of Virginia baked ham from the deli section cut into 1/2 square pieces
Directions
1. Preheat oven to 350 degrees
2. In a medium bowl, add eggs, half and half or milk, Emeril seasoning, and rosemary, and whip with a whisk or a fork, making sure to incorporate air into the eggs (this helps create a pleasantly fluffy quiche). Add Boursin cheeses and, with a fork, break it apart until fulling blended with the egg mixture.
3. Stir in cheddar cheese blend and pour into pie shell
4. Evenly distribute ham throughout the quiche
5. Bake at 375 for 40 - 50 minutes. Keep an eye on the quiche for when it completely rises, including the middle, and is a warm golden color cooked thoroughly. Remove from oven and confirm it's cooked thoroughly by inserting a knife and it removes without wet egg). Allow to rest for 10 minutes and then serve.
Gallery