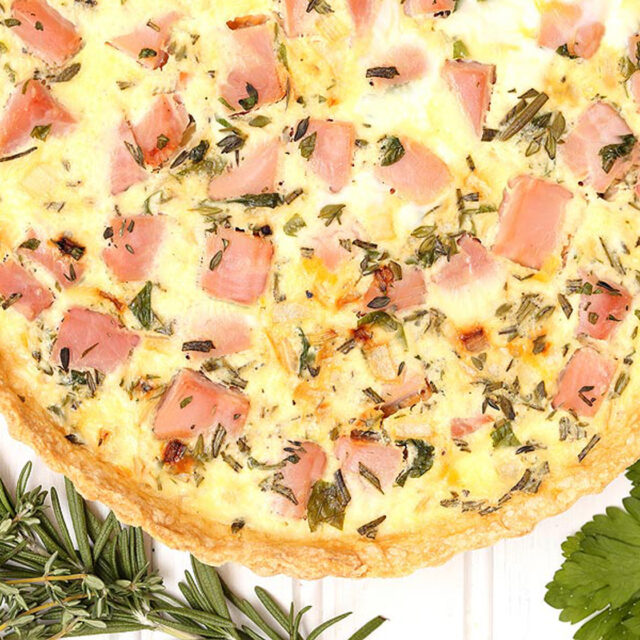 Ham and Herb Quiche
1 hour 25 minutes
|
Yield:

8 Servings
This cheesy Ham and Herb Quiche with fresh rosemary, thyme, and parsley will steal the spotlight for your Easter brunch.
Ingredients
One 9-inch pie crust, unbaked
1 cup diced cooked ham
1/4 cup chopped onion
1 tbsp chopped fresh rosemary
1 tbsp chopped fresh thyme
1 tbsp chopped fresh parsley
2 eggs
1/2 cup whole milk
1/2 cup heavy whipping cream
1/4 tsp. salt
1/8 tsp. ground black pepper
1 cup shredded cheddar cheese
Directions
Preheat oven to 375˚F. Line a 9-inch tart pan or pie plate with the pie crust and place on a baking sheet. Line the pie crust with foil on top then fill with pie weights or dried beans. Bake for 10 minutes. Remove the foil and weights then bake another 5 minutes or until the bottom is golden brown and no longer looks uncooked.
While the crust is baking, prepare the filling. In a large bowl, mix together the ham, onion, rosemary, thyme, and parsley. In another large bowl or measuring cup, whisk together the eggs, milk, cream, salt, and pepper.
Once the crust has finished baking, sprinkle the cheese evenly over the crust. Top with the ham mixture then pour the egg mixture over top. Bake for 35-40 minutes or until top is golden brown, doesn't jiggle when moved, and a toothpick inserted in the center comes out clean. Cool 15 minutes before serving.
Author: Carla Cardello (www.chocolatemoosey.com)