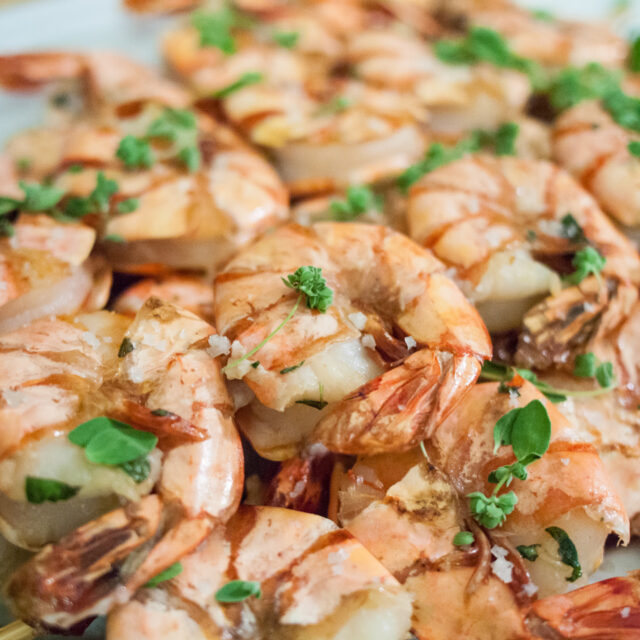 Grilled Shell-on Shrimp Skewers with Fresh Marjoram
An elegant way to dress up finger food, these shell-on shrimp skewers give dinner guests the best of upscale flavor and down-home eating. The nuanced mingling of marjoram and garlic elevate the dish, while the act of shucking shrimp helps get dinner guests, well, out of their shells. Doing the shrimp low and slow over a medium-low grill turns them perfectly pink without overcooking them, so each skewer turns out as delectably as the last.
Ingredients
2 lbs. large shell-on shrimp
4 cloves of garlic
3 tsp. marjoram, minced
4 tbsp. olive oil
8 wooden skewers
1 tsp. salt
marjoram and sea salt, for garnish
Directions
Toss shrimp with garlic, marjoram, and olive oil.
Heat grill to medium-low.
Skewer shrimp through head and tail, so that they curl in a c-shape.
Sprinkle skewered shrimp with 1 tsp. salt.
Cook over medium-low for ten minutes or until shells are bright pink and lightly browned.
Sprinkle more fresh marjoram and rock salt over the shrimp.
Serve on skewers or off and alongside plenty of napkins as de-shelling shrimp is fun but can be messy!