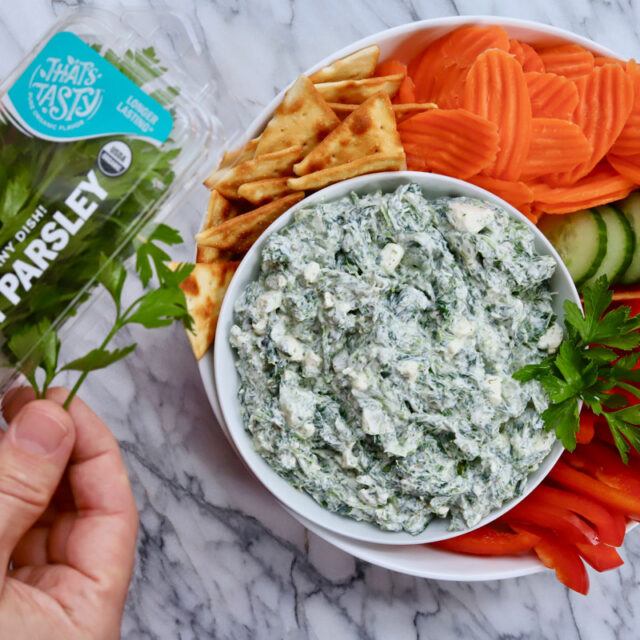 Greek Spanakopita Dip
15 minutes
|
Yield:

About 3 cups
Serve with carrot chips, toasted pita bread, bell peppers, or your favorite dipping vessels. Switch up that traditional spinach dip recipe with this revamp of a Mediterranean classic!
Ingredients
15 ounces chopped frozen Spinach, thawed
1/3 cup chopped Sweet Onion
1 clamshell Italian Parsley, leaves separated
2 squeezes of Organic Dill Purée (about 2 tbsp.)
2 squeezes of Organic Garlic Purée (about 2 tbsp.)
1 cup Greek Yogurt
1/4 cup Mayonnaise
4 ounces Feta Cheese, cubed or crumbled
1/4 tsp. Salt, or to taste
Directions
Place thawed spinach in a clean kitchen towel and squeeze out any excess water. Make sure to use a dark colored towel to ensure you do not stain it green.
Set spinach in a large mixing bowl and add the remaining ingredients. Mix until well combined. NOTE: only use the leaves from the parsley, as the stems do not work well in this recipe. Slightly chop the leaves before adding to your mixing bowl.
Place dip in the refrigerator, covered, until you're ready to serve. You can make this recipe up to one day in advance if you'd like.