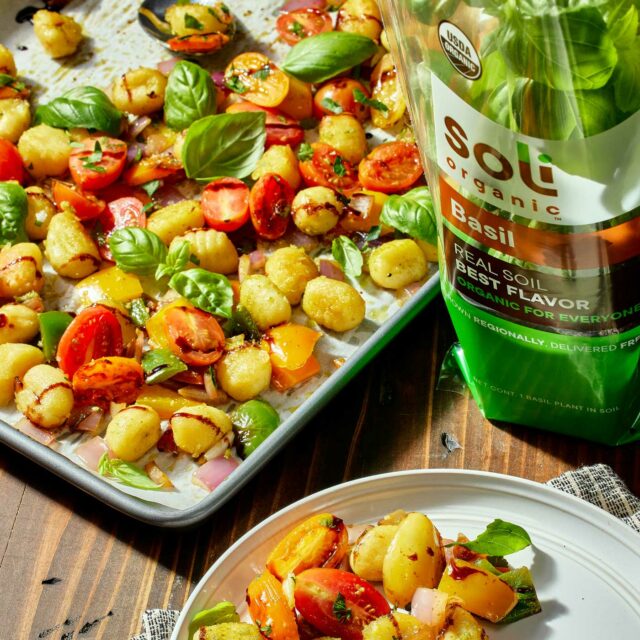 Gnocchi Sheet Pan with Basil
Cooking at home could not be easier with this Gnocchi Sheet Pan recipe. With the bold flavor of fresh, organic basil, this meal will become a staple in your meal prep routine.
Ingredients
One 16-ounce package gnocchi
Soli Organic Living Basil
1 red onion, halved and quartered
1 orange bell pepper
1 yellow bell pepper
1 cup cherry tomatoes
2 tablespoons balsamic glaze
Freshly shave parmesean
¼ cup pesto
¼ cup olive oil
Directions
Preheat oven to 450 degrees Fahrenheit. Line a sheet pan with parchment paper.
Place the gnocchi, red onion, and bell peppers on the prepared sheet pan. Sprinkle with a pinch of salt and pepper. Mix the olive oil and pesto in a small pitcher. Drizzle over the pan and toss to coat.
Bake for 10 minutes. Remove and toss. Sprinkle over the tomatoes and Soli Organic Basil. Return to the oven until the gnocchi have begun to brown and crisp, an additional 8 to 10 minutes. Remove from the oven and sprinkle on the Parmesan shavings. Drizzle with the balsamic glaze and sprinkle over the basil leaves to serve.
Gallery