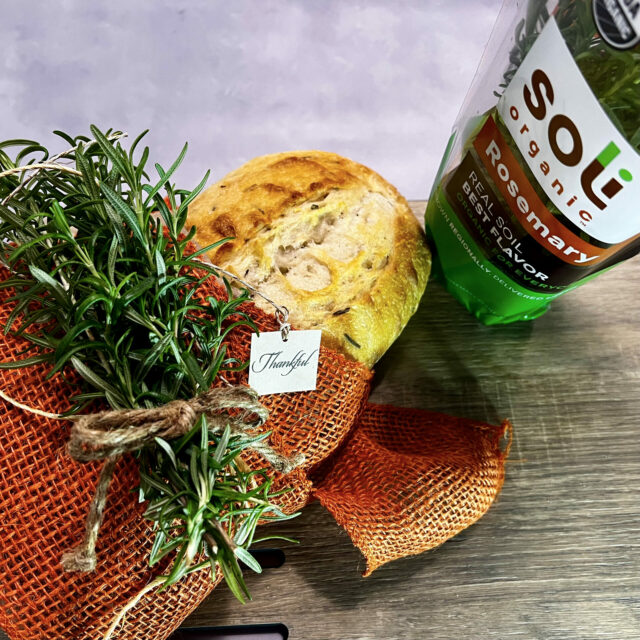 Garlic Herb and Parmesan Hostess Bread
15 minutes
|
Yield:

2 loaves
A Hostess Gift that says "Thank You" with Flavor
Ingredients
1 tablespoon instant dry yeast
1 tablespoon sugar
1 cup warm water
1 teaspoon salt
6 teaspoons fresh chopped Soli Organic Rosemary
3 teaspoons fresh chopped Soli Organic Basil
3 teaspoons fresh chopped Soli Organic Oregano
6 cloves minced garlic
2 to 2 1/2 cups all-purpose flour
1/3 cup grated parmesan cheese
2 tablespoons olive oil
1 tablespoon butter
Directions
In a large mixing bowl, add yeast, sugar, and water. Stir in salt, rosemary, basil, oregano, and garlic.
Add 2 cups of flour and the parmesan cheese and stir until combined. Gradually add in the remaining 1/2 cup flour (if needed) until you have a smooth and elastic dough that is tacky but doesn't stick to your hands.
Transfer to a lightly greased mixing bowl, cover, and let rise until double in size, about 1 hour.
Preheat the oven to 375 degrees Fahrenheit. Drizzle a baking sheet with olive oil.
Divide the dough in half and shape it into two separate round loaves. Place loaves onto the prepared baking sheet. Let rise another 15 to 20 minutes.
Top each loaf with 1/2 tablespoon butter.
Bake in the 375-degree oven for 18-20 minutes, until golden brown.
Recipe adapted from thestayathomechef.com.
Gallery