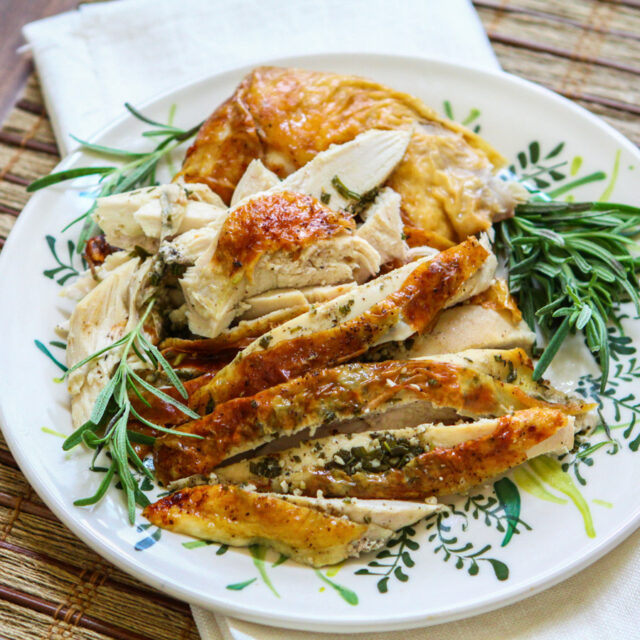 Combining the savory flavors of bay, thyme, sage, rosemary, and garlic, this holiday turkey brine gives your Thanksgiving bird an extra boost of flavor that will have even your mother-in-law begging for the recipe! Wow friends and family alike with a Thanksgiving turkey that is both juicy and flavorful---who knew it was as easy as fresh herbs?
Ingredients
One 16 - 20 lb. Turkey
2 2/3 cups Morton's kosher salt
1 tbsp. whole peppercorns
4 bay leaves
8 stems fresh thyme
3 stems fresh sage
4 tbsp. fresh rosemary leaves
10 cloves garlic, smashed
1 gallon boiling water
8 pounds ice cubes
Directions
Combine the salt, peppercorns, bay leaves, thyme, sage, rosemary, and garlic together in a large stock pot. Add 1 gallon of water. Bring the mixture to a rolling boil, remove from heat.
After removing from heat, steep the mixture for 45 minutes. Then, add in enough ice to bring the brine amount up to 2 gallons (2 gallons = 32 cups). This is very important otherwise you will have an incredibly salty turkey.
For smaller stock pots, you may have to allow the brine to cool and add the additional amount when pouring the brine into the bag in the following step.
Place the turkey in a large zip-top bag. I recommend the Ziploc Big Bags (size large). Put the bagged turkey in a clean cooler. Pour the brine over the turkey, in the bag, making sure the breasts are fully submerged. Zip the bag closed. Place the cooler in a cool place, such as your garage or, and allow the turkey to soak in the cold brine for 12-24 hours.
You may need to use gel ice packs or bagged ice around the zipped bag inside the cooler, if necessary, to keep the brine below 40°F. (Adding more ice directly to the brine would only dilute it.)
Alternatively, if you have room in your refrigerator, you may place the bagged turkey in a large foil tray rather than a cooler and store it on the fridge shelf.
After the brining process, remove the turkey from the brine and rinse it. Pat dry using paper towels. Then, transfer the turkey to a roasting pan. Discard the brine. Roast according to your preferred method.
Variation: For a citrus twist, add 3 sliced lemons or the peel of 3 tangerines.
For a smaller turkey you may make less brine; however, be careful to do so with the original proportions of ingredient still intact. Too much salt will leave you with an incredibly salty turkey. Also, birds less than 10 pounds will likely not need to soak for the full 24 hours to achieve the desired results. It is not advised to brine kosher turkeys as they will yield undesirable salty results.
Brining Time Guide: Whole Turkey: 12-24 hours, Turkey Breast: 3-6 hours
Photo and recipe created by Katie Goodman, GoodLife Eats, www.goodlifeeats.com