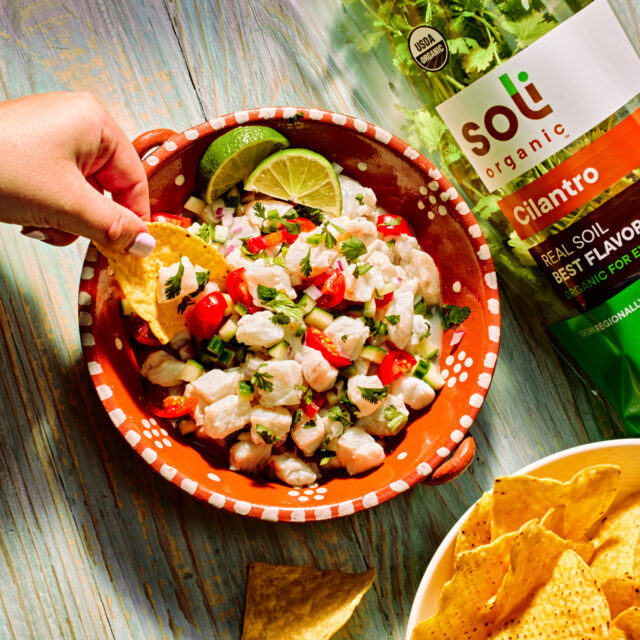 Fresh Ceviche with Cilantro
1 hour
|
Yield:

6 Servings
Nothing says "summer" like fresh seafood, and if you can't escape to the islands, bring the island life home with this fresh ceviche recipe.
Ingredients
1/2 red onion
1 teaspoon kosher salt
1/4 teaspoon black pepper
3/4 cup fresh lime juice
1–2 garlic cloves
1 fresh serrano or jalapeño chili pepper
1 pound fresh white fish (cod, mahi-mahi, tilapia, etc.)
1/4–1/2 cup fresh Soli Organic Cilantro
1 cup grape or cherry tomatoes
1 cup cucumber
1 tablespoon olive oil (optional)
Fresh Soli Organic Parsley
Optional: 1 avocado
Tortilla chips (to serve)
Directions
Slice the red onion thinly with the grain, and toss in a bowl with salt, pepper and lime juice, coating well.
Add the fish, garlic, and fresh chilies and gently mix.
Add the tomatoes, cucumber, Soli Organic Cilantro and olive oil and stir.
Marinate in the refrigerator for at least 30 minutes before serving.
Before serving, taste and add more salt or chilies, as desired. Gently fold avocado in right before serving.
Serve ceviche in a big bowl, garnished with Soli Organic Parsley, and with tortilla chips on the side.
Gallery