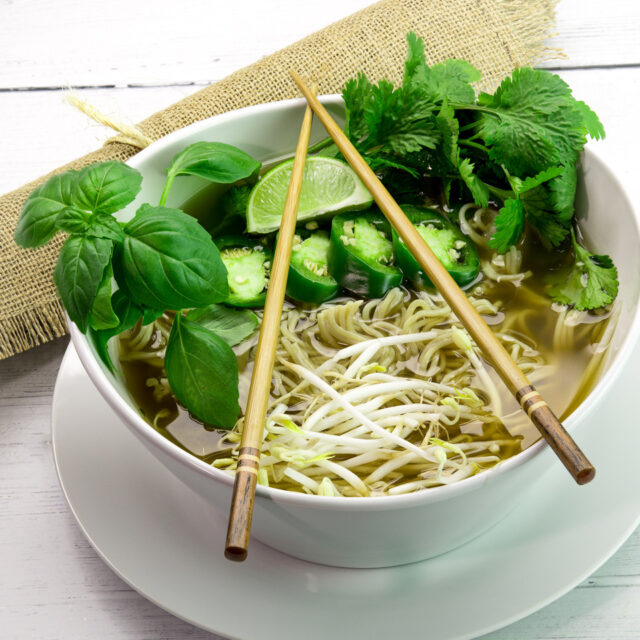 Flavorful Homemade Chicken Pho with Basil and Cilantro
This flavorful Vietnamese soup is a classic comfort food that is perfect for any occasion. With its aromatic broth, tender chicken, and fresh herbs, it's no wonder that pho has become a beloved dish around the world. You'll love this recipe that features a delicious blend of herbs and spices, including Basil and Cilantro.
Ingredients
8 oz package of rice vermicelli noodles


4 boneless/skinless chicken thighs or breast cut into very thin strips
1/2 large white onion, chopped into medium pieces


2 (2-inch pieces) fresh ginger, peeled and halved, length-wise


8 cups chicken stock or broth
1 cup water


1 teaspoon ground coriander


1 tablespoon clove (optional)


2 tablespoons fish sauce


1 tablespoon soy sauce


1 tablespoon red chili paste


1 stick cinnamon


salt and freshly ground black pepper
Directions
In a large pot dry cook onion and ginger to gently char (about 4 - 6 minutes, stirring occasionally)

Add the broth, water, coriander, clove, fish sauce, soy sauce, chili garlic paste, cinnamon stick and a pinch of fresh cracked salt and pepper to the pot. Bring to a boil, then reduce and simmer for 30 minutes.

Prepare noodles as directed on package.
Strain soup through a colander to remove onion, ginger, and cinnamon stick and return to pot over medium heat.

Add chicken to broth to cook approximately 4 -5 minutes (depending upon thickness)
Divide the noodles among bowls and ladle in your soup. Add desired toppings. Enjoy!

Pho Toppings
1 bunch fresh Soli Organic Living Cilantro
1 bunch Soli Organic Living Basil leaves (Thai if available)
2 fresh jalapeño peppers or red thai chili peppers sliced
1 cup fresh bean sprouts
1 lime, quartered
Your favorite hot sauce(s)
Gallery